18 Remarkably Beautiful Swarovski Gifts for All Occasions | The Ultimate Swarovski Gifts Guide
Oh, Shiny! If there's an absolutely gorgeous gift that is suitable for all occasions, that's everything Swarovski. Every anniversary (especially the 15th anniversary), birthday, Mother's day would be a festival of glitter with the shiny little crystals. You just can't ignore any of these unforgettable Swarovski gifts that work for everyone in your life. So if you are looking for a glamour gift, this is exactly a piece for you!
Many people around the world have heard about the so-called Swarovski jewelry. But what exactly are these jewels? What is the difference between Swarovski Jewelry and Swarovski Elements? How to take care of Swarovski crystals? Just some of the questions that I try to answer in this following post. Plus 18 fascinating gift ideas for almost any occasion. Because I love absolutely everything glam and shiny. And I honestly think that there's no woman who wouldn't appreciate any of these gorgeous Swarovski gifts. Trust me? Just keep reading.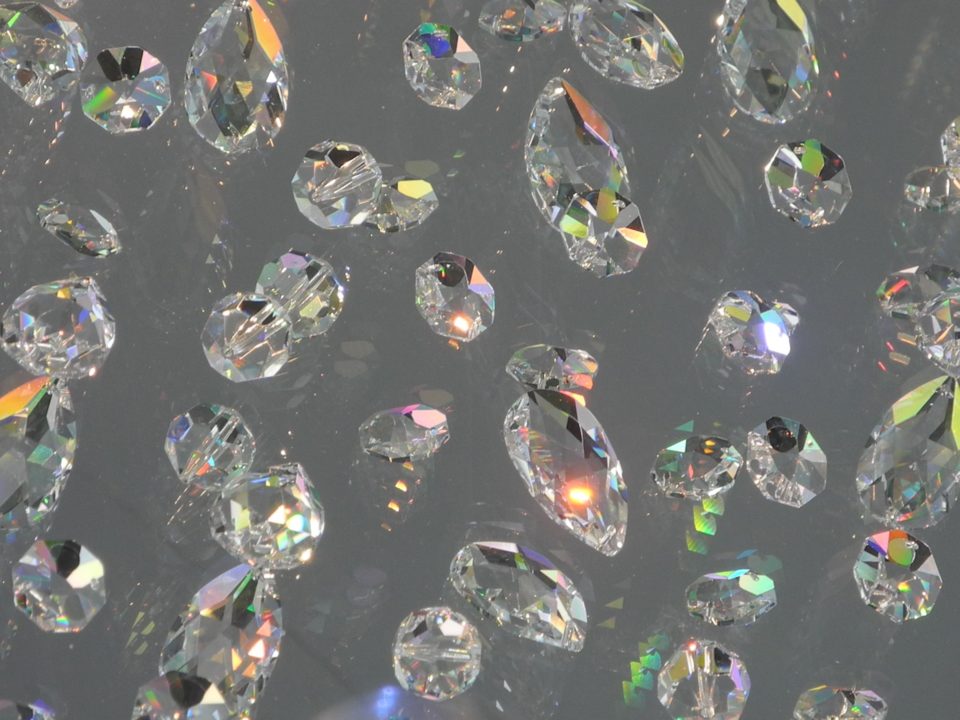 Note: This post includes BestGiftIdea.net's affiliate links. 
But first, let's get to know more about Swarovski history.
1. What Is Swarovski?
Swarovski is not only the company known for its mesmerizing crystals in the form of figurines, fine jewelry, and beads. Swarovski (pronounced Swor-ov-ski) is the name of the man who founded the Swarovski company in the far 1895. And actually the shiny crystals' great inventor – Daniel Swarovski. Also known as the Great Imitator.
Swarovski Crystals – a Sparkly Glass Art Or a Perfect Diamond Imitation?
People talk about Swarovski crystals as something unique and very expensive. But few of them may know that these crystals are artificial. Meaning that they cannot be found in nature. On the contrary, they are produced. Swarovski uses quartz, sand, minerals and certain elements of chemistry to create the super sparkly glass. Of course,  the exact proportions of these raw materials has remained a secret for decades.
But the glass cutting machine used for processing the crystals is probably the most important thing in the whole story of their production. It was patented in 1892 as a machine that could cut crystal to perfection, using hydro-electricity methods.
The smart and innovative combination of chemistry, electricity, and perfection turn the glass into a real temptation with a specific glow. The specific sparkle is the thing behind the popularity of Swarovski crystals. Because they are genuinely produced crystals with a great reputation at an affordable price. But before all – because they glow as real diamonds! We all know the great Marilyn Monroe's quote about diamonds, right? So if a woman can't afford diamond's precious company for their high price, there are simply no excuses for not having Swarovski!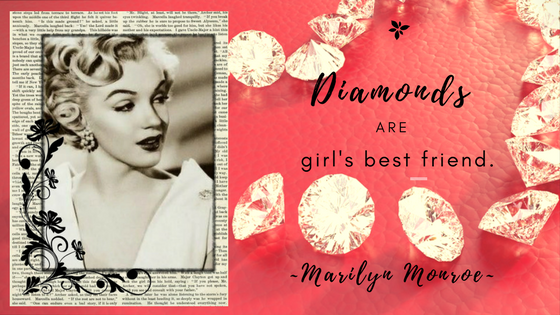 Today, the absolutely perfect crystals are a must for every lady. The shine of Swarovski is the magic, which brings the finesse and grace. The small crystal beads are part of almost all designers handcrafted jewelry, and Swarovski's innovations in forms and colors surprise us, season after season, year after year.
2. Do Celebrities Wear Swarovski?
Due to their reputation for diamonds imitation made by simple glass, there are still many people who claim they are not wearing (or would never wear) Swarovski jewelry. This, of course, is a matter of personal choice. But such people definitely do not know all the facts that you already know about the Swarovski history and technique.
I don't judge. After all, everyone decides on the jewelry that would make them feel glow. And yet, to help you break the clichés, I'm telling you – Hollywood celebrities do wear Swarovski jewelry and accessories, even on official events. Don't believe?
The remarkably beautiful Miranda Kerr has been the face of Swarovski since 2013. The model designed her first collection for the jewelry brand, incorporating symbols and shapes that she finds meaningful into necklaces, bracelets, and earrings for 2015 holiday collection.
Katy Perry was spotted with a beautiful blue Tadashi dress and designer shoes with gorgeous Swarovski Bella Golden Shadow Earrings in the same blue color. Not less elegant Christina Applegate (Married with Children) is in an obsession with the Austrian trademark. The Hollywood celebrity combines Swarovski's purse with Lorraine Schwarz's jewel and Emanuel Ungaro's dress. Both sexy Lucy Lou and Penelope Cruz wear official Swarovski jewelry at official events. While Jennifer Lopez and Kim Kardashian prefer the shiny Swarovski clutches.  For the premiere of Titanic in 3D, Kate Winslet, who melts millions of hearts with her romantic roles, wore a Jenny Packham black dress with Swarovski capped sleeves.
3. Swarovski Gift Guide
The following Swarovski gifts are great for all the people who want to make a statement. A very classy and shiny one!
Check these 18 gift ideas break into 4 sections: decoration, jewelry, beauty gifts (like make-up, fragrances and more) and a whole bunch of accessories for all type of women! Enjoy the shiness!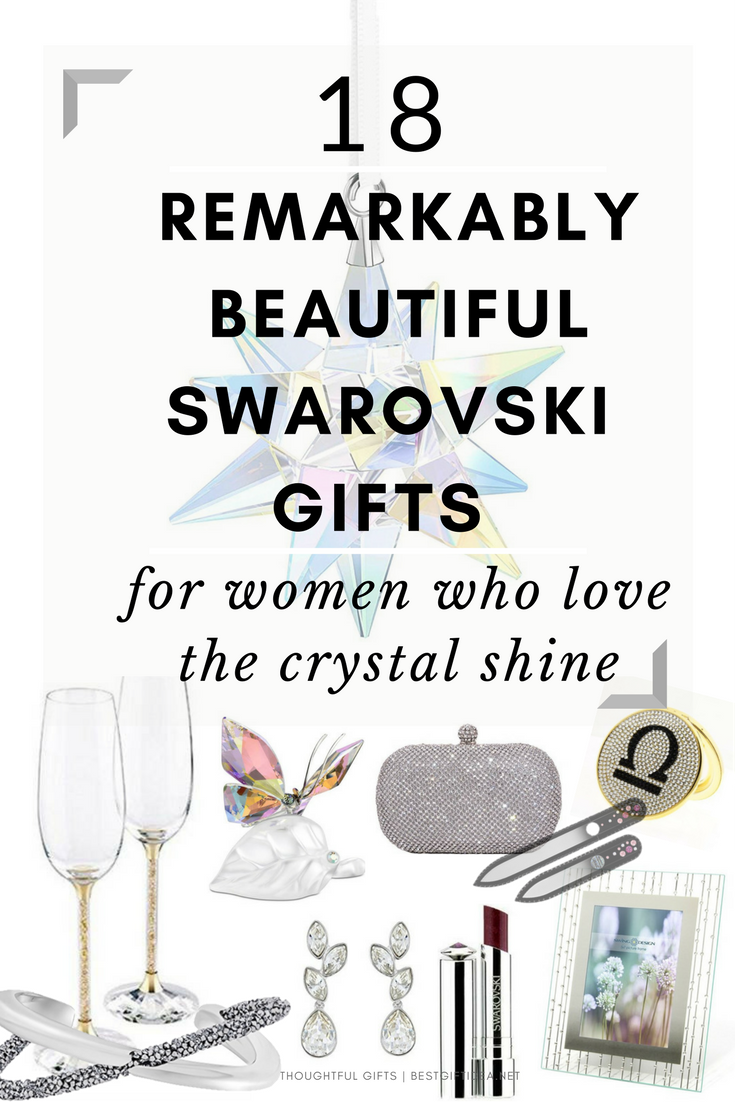 DECORATION
---
Although Swarovski jewelry is the most famous of the brand, I think of starting with the Swarovski decoration. The main reason – it's winter time and there's nothing more heartwarming gift that a real Swarovski Christmas ornament. But before showing you some of the fascinating  Annual Christmas ornaments, let's dig a little bit into the history of Swarovski dazzling figurines. The most surprising fact was that the variety of figurines isn't endless. The company's management actually decides on the limits each figurine is produced. When reaching the number, it gets retired. Like the dolphins (retired in 1990), the elephant (2012), winter bird ornament (2009), the sailboat (2004).  Of course, the more times passes, the more valuable the retired Swarovski Crystal figurine becomes.
Be cautious because there are many fakes. A simple way to check if a figurine is genuine is to examine it closely and look for any flaws and tiny bubbles in the glass.  Swarovski company sticks to the highest standards of quality and refuses to sell any item they believe is flawed. (check again my 7 proven ways to recognize genuine Swarovski)
# 1 Traditional Crystal Figurines for The Swarovski Collector
The first Swarovski figurine was a mouse, in the far 1976. Then came a hedgehog, a turtle, a rhino, a swan and many others. There is a variety of figurines and ornaments at different sizes, colors, and even ages. Swarovski Crystal figurines are considered the best collectibles in the world. They're elegant, magical, and timeless. Not only do collectors enjoy adding new figurines to their collections (and getting a new one as a gift), they also enjoy the fact that the collection of crystal figurines will be something they can pass on to their children.
3 Types of Figurines
a figurine faceted with the significant Aurora Crystal – the Aurora effect is always remarkable. The crystals change color from a different angle and it's like they are colored from the inside. Look at this Swarovski Sparkling Butterfly on Leaf – simply amazing!
a figurine from the traditional animal collection – it is always a pleasure to add another cute animal to the collection. And if you know the animal symbolic meaning, that's what I call a thoughtful gift (and beautiful in the first place).  Here's the little mouse.  With its lovely little whiskers, tail, and ears. It looks so happy with its little yellow cheese in Light Topaz crystal! As you already know, the little mouse was the first crystal animal figurine ever created by Swarovski. This one here isn't the first one, but it is oh, so cute! Check the Swarovski Mouse Figurine HERE
a figurine from the Swarovski Zodiac collection – meet Ko-Ko the Rooster Swarovski gift. It features innovative prints on both wings and symbolizes decisiveness, wit, and dignity. Check here for more of the Zodiac Swarovski figurines, especially the crystal brown dog – 2018 Chinese zodiac symbol
#2 Unique Christmas Ornaments
There's a saying – when a new year comes, a new ornament should enter the home. If this is new to you, it's never too late to start this cute tradition.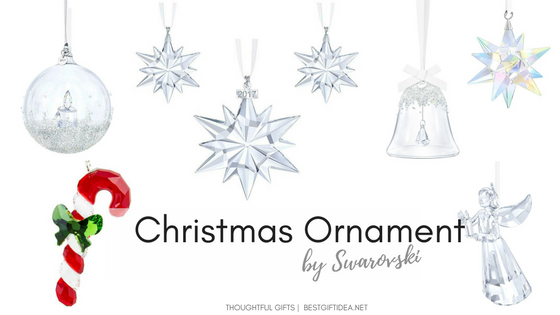 The festive 2017 annual Swarovski Crystal Ornaments are simply amazing! Everyone would be happy to receive such a wonderful Christmas ornament as a gift. Each piece of them is not only remarkable with its own beauty but also appreciated with its collectible value.  Oh, and it makes also a perfect 1st Christmas baby gift idea! Or a lovely 1st-Christmas-in-a-new-home-gift!
This year the Swarovski ornament features an authentic star design that is beautifully crafted in shimmering clear Swarovski crystal. This stunning ornament also boasts a metal tag engraved with '2017' and hangs on an elegant white satin ribbon, making it the perfect gift to celebrate any special moment in 2017. O

ne word, "BEAUTIFUL". 

One Swarovski Star Ornament may not be enough. So giving 3 of them in a beautiful crystal ornament set is just what the true Swarovski person would make happy. Check it Amazon HERE.
Another masterpiece is the remarkable mouth-blown glass ball. The Swarovski Christmas Ball is hand-embellished with Swarovski's crystals and has a full-cut crystal candle inside the ball. (click HERE to check it Amazon)
The same Crystal Rock technique can be seen on the gorgeous Swarovski Christmas Bell. Imagine it hanging on a satin ribbon, surrounded by multicolor Christmas lights or sun rays, reflecting them beautifully. It will definitely live up every home.
Another stunning Swarovski Ornament is the Angel -a symbol of peace, harmony, and tranquility. It sparkles with 316 clear crystal facets that hold a delicate candle. It's easily breakable into small pieces, so have it in mind. Nevertheless, the Swarovski Angel is one of the most purchased items so better hurry until sold out. (check it on Amazon HERE)
If you prefer more festive colors, then the charming Swarovski Candy Cane Ornament is here to give you the joyful sparkle. (click HERE to check it Amazon)
Finally, the unique Aurora Borealis Christmas Star Ornament. Isn't it simply outstanding (in the top right corner)? A little gift for myself 🙂
# 3 Swarovski Inspired Home Gifts
These Swarovski home gifts are incredible gift ideas for anniversaries, weddings and almost every special occasion I can think of!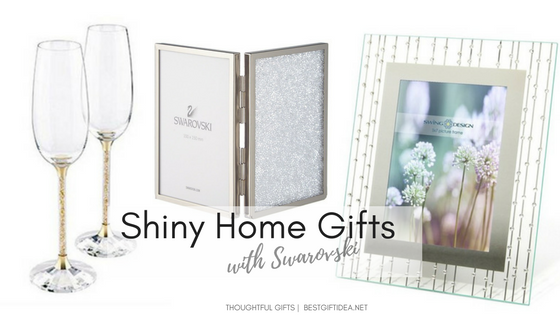 JEWELRY
---
Swarovski crystals are used in all aspects of jewelry. Seasonal collections of Swarovski jewelry with precious and semi-precious stones and metals coated with gold or silver are released every year. Swarovski bangles and cuff bracelets are a very popular option for the fashionista. This gift combines modern design look with the classic lines and sparkle of quality crystals. A jewelry set that includes a necklace and a pair of earrings is a great gift for the woman in your life. Crystals look and sparkle like diamonds without the unbearable price tag. For the woman who loves the color, maybe the Swarovski royal blue Sapphire set would be attention-grabbing enough. As all the other Swarovski jewelry gifts as listed below:
# 4 Swarovski Crystaldust Bangle for Her
There are pieces of jewelry that can't be missed. Real eye-catchers. Like this irresistible Crystaldust bracelet by Swarovski! It looks heavy and quite dramatic. But it is surprising how light, comfortable and elegant it is. A perfect gift for the trendy woman in your life! A lot of compliments on their way!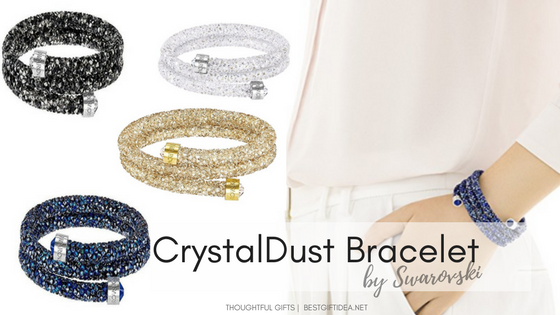 It is crafted using the unique Swarovski Crystal Rock technique that provides the stunning sparkling effect. The bracelet is lavishly encrusted with crystals that bring unparalleled sparkle to the wrist or arm. Not only the spiral silhouette is on-trend, but Swarovski CrystalDust bracelet fits any style demands. It is suitable for almost all kind of occasions, even an ordinary night out. As long as the diameter is appropriate, the risk of losing the bracelet is almost zero (no clasps, no locks, just wrap around). Be careful only with fabrics that might snag – the crystals are adorned so the bracelet isn't sleeky at all.
Swarovski Crystaldust bracelet is available in 13 different colors.  I am so in love with the gold Crystaldust! Which is your favorite?
Swarovski Crystal Crystaldust Multi-Colored Double Bangle, Rose Gold-Plated – check HERE 
Swarovski White Double Crystaldust Bangle – click HERE
# 5 Swarovski Crystaldust Cross Cuff  for Her
Meet Swarovski Crystal Crystaldust Cross Cuff. One-of-a-kind and modern bangle with a cool crossover silhouette for a contemporary look. Just imagine a little black dress plus this adorable bracelet. A perfect combination that would last the time. Swarovski bracelets are made of stainless steel so be sure that the happy woman who would receive this gift won't experience some sort of skin irritations. A serious reason to (ALWAYS) searches for a genuine Swarovski. Plus the quality of the crystals of course. Absolutely amazing jewelry that lifts any outfit. The pictures can't show their true glamour!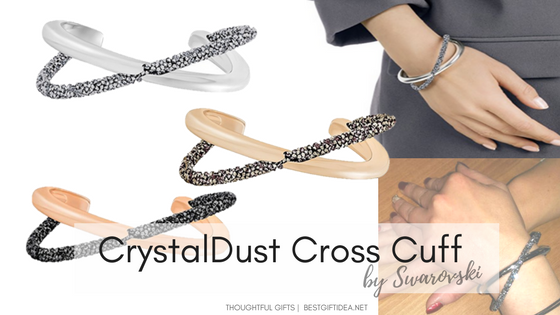 Grey Swarovski Crystaldust Cross Cuff Bracelet – 

click HERE

White Swarovski Crystaldust Cross Cuff Bracelet – 

click HERE
# 6 Swarovski Stardust Bangle
Stardust bracelet is an ultra-glamorous girly-style gift. It looks like shimmering dust of stars gathered in a 3D nylon fishnet tube.  This may sound not so attractive, but trust me – it's unique with its shine somehow "from the inside". So cute, yet delicate in its own unique way!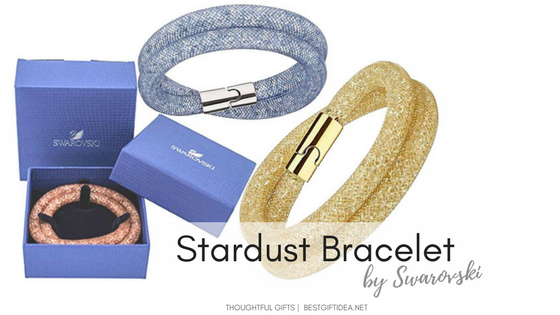 See? I am sure it will come the new fave go-to accessory for the fashionable lady. Filled with golden crystals, this deluxe version of the Stardust Bracelet features a premium metallic fishnet tube for extra sparkle. It can be worn as a Double Wrap Bracelet on the wrist or arm, or on the neck as a trendy Choker.  It is available in two sizes: S (38 cm-: 14 7/8 inches) and M (40 cm- 15 5/8 inches.) You'll fall in love with how the sparkling crystals shine from inside. Moreover, there are different colors to choose between.
The Stardust bracelet fits perfect for any casual outfit and girly style. It is an awesome gift for graduates, younger women, why not even teenagers as their first very special versatile piece of jewelry. Check the genuine Swarovski Stardust bracelet variety HERE.
# 7 Swarovski Earrings
From hoops to chandeliers and everything in between, choosing a pair of earrings for that special someone can be a different task. To make it easy, pay attention to the type of earrings she usually wears. A simple pair of Swarovski studs or teardrop earrings is perfect for mom or grandmother. A girlfriend or wife may want something more noticeable, with more sparkle. Also, consider the shape of her face – check these tips on choosing the right earrings according to face type. Swarovski handles with the rest – quality, glam, beauty. Always guaranteed. And the result: sheer elegance!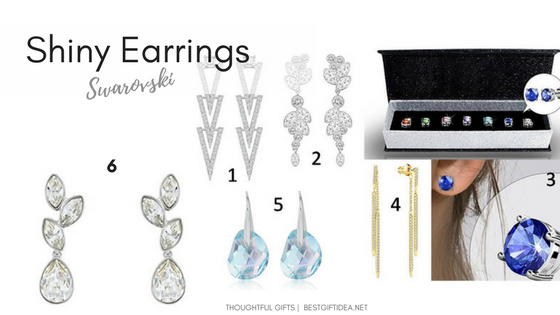 2. Miranda Kerr Pendant Earrings – check HERE
3. Swarovski Elements Crystal Stud Earrings Set of 7 Pairs 18K White Gold Plated Earrings by R-Timer – check HERE
4. Swarovski Gold-Plated Fine Earrings by Swarovski – check HERE
5. Light Azore Blue Crystal Earrings by Reeds – the perfect all-occasion earrings with a dazzling shine and Aurora Borealis effect – check HERE 
6. Swarovski Tranquility Pierced Earrings by Swarovski  – check HERE
# 8 Swarovski Pendants & Necklaces
A necklace is always nice, and a Swarovski crystal necklace makes a statement. For your mom, something simple, like the Starlet necklace, is a beautiful addition to her outfit. For the girlfriend, who might want something a little trendier, go for the longer Lunar necklace or Gillian necklace. If you are not sure what style of necklace to choose, go for a pendant. One thing is clear – there is always a suitable Swarovski jewelry for her neck at the perfect price point that would make your shopping easy.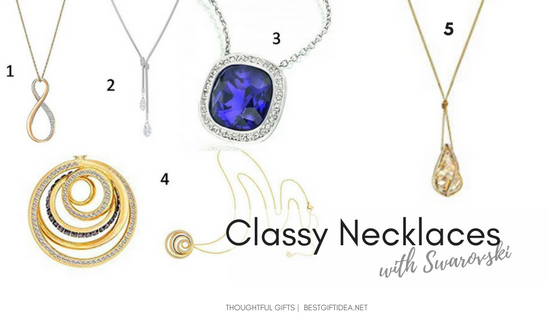 # 9 Swarovski Gifts for the Real Swarovski Lover – Iconic Swan Gifts
The elegant swan is a significant part of the Swarovski history. It is its symbol ever since 1989. Being honest, I was curious to find why actually Swarovski company chose the swan but didn't reveal anything. I doubt answers 'just-like-that". Any ideas?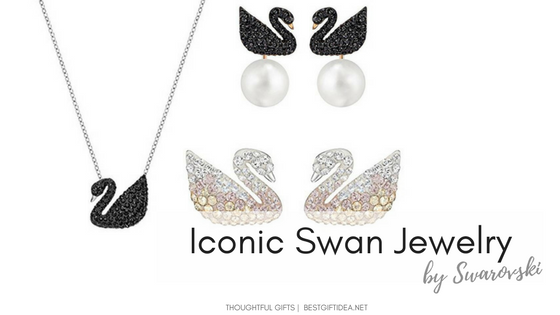 Swarovski Iconic Swan Pendant – check HERE
Dramatically Beautiful Iconic Black Swans Earrings – check HERE
Swarovski Iconic Swan Earrings – check HERE
BEAUTY GIFTS
---
# 10 Swarovski Make Up Jewels Gifts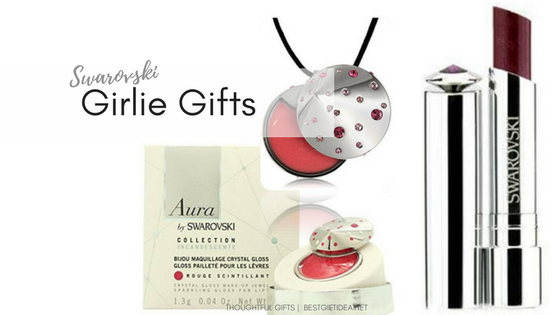 Gorgeous functional Swarovski pendant necklace with glitter lip rose gloss inside by Swarovski – check HERE
Swarovski Aura By Swarovski Lipstick (Limited Edition) – Crystal Burgundy – check HERE
Swarovski Aura By Swarovski Bijou De Maquillage Crystal Touch face and body highlighter – check HERE
# 11 Swarovski Beauty Musts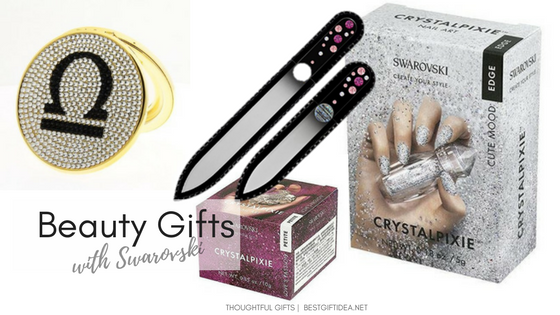 Crystal Zodiac Sign Compact Round Mirror covered with over 500 brilliant Swarovski Elements-check HERE
Set of 2 Glass Nail Files Hand Decorated with Swarovski Elements, in Black Velvet Sleeve made of  Genuine Czech Tempered Glass – check HERE
 Swarovski CrystalPixie Petite Nail art sparkling tiny crystals – check HERE
# 12 Unique Swarovski Gift for the Woman Who Wants To Be Different
This beautiful item is gold plated and features real sparkling Swarovski Austrian Crystal elements to add a luxurious look. It is not just a necklace. But a smart jewelry great for touch-ups at the right time. The bottle pendant contains Swarovski crystal elements (meaning components) but is not a Swarovski brand product.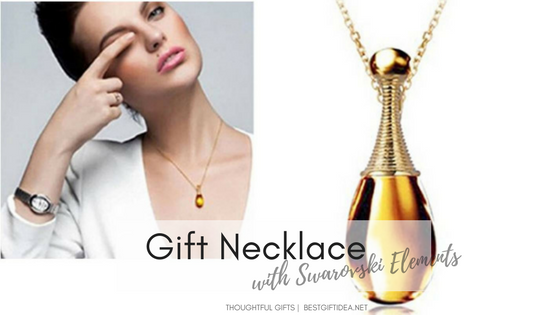 Rose Gold Plated Perfume Bottle Golden Yellow Swarovski Elements Crystal Pendant Necklace Jewelry for Women By Gifts for Girls – check HERE
# 13 Swarovski Fragrances
Guess what's the inspiration for Swarovski's signature scent Aura. Of course, the magic of crystals. Therefore, the smell is absolutely clear, sweet, slightly floral in a fusion of amber and white musk. Not only the fragrance is remarkable. But the bottle itself. It is designed by the renowned interior and product designer Gwenaël Nicolas. Tall, sleek and featuring a genuine embedded Swarovski crystal; it's a miniature work of art. Perfect for collectors, for your handbag or for the modern ladies as a gift. Ladies and gentlemen, the extraordinary …AURA by Swarovski: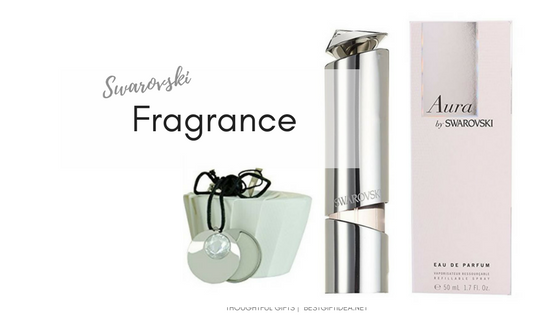 Swarovski Aura Sparkling Solid Perfume  – check HERE (lychee & rose, crafted as a combination of glass & metal topped with a large Swarovski crystal)
SWAROVSKI Aura Eau De Parfum Refillable Spray for Women – check HERE
Swarovski Miss Aura Eau de Toilette – check HERE 
ACCESSORIES
---
# 14 Swarovski Watches
Swarovski watch is the perfect 15th wedding anniversary gift. Traditionally, the 15th-anniversary symbol is the crystal. The modern version of the 15-anniversary gift includes a watch. Therefore, this Crystalline Swarovski Watch combines them both. And looks brilliant on the wrist of every woman, no matter of the color. Make your woman's wrist sparkle with this innovative and glamorous Swarovski timepiece. It features a unique oval case for a sleek look.  The strap is fabric with light golden-tone or silver-tone coated ardillon buckles (the grey one has a leather stripe). There are index markers at 3, 6, and 9 o'clock. And the elegant little swan at 12 o'clock. Also – water resistant, Swiss quartz movement technique. And approximately 1700 oh, so shiny clear crystals!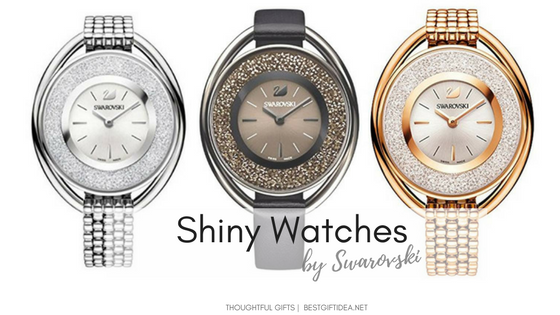 Swarovski Women's Crystalline Watch – check HERE
Ladies' Swarovski Crystalline Oval Gray Tone Watch – check HERE 
Swarovski Crystalline Oval Rose Gold-Tone Bracelet Watch – check HERE
 # 15 Swarovski Elements Shiny Clutch
The clutch has become of the musts for every stylish girl. But when adorned with hundreds of dazzling round crystals, this bag simply goes beyond. The all-time jewelry lady bag! These clutches are perfect for gifts as a substitute for the classic jewelry.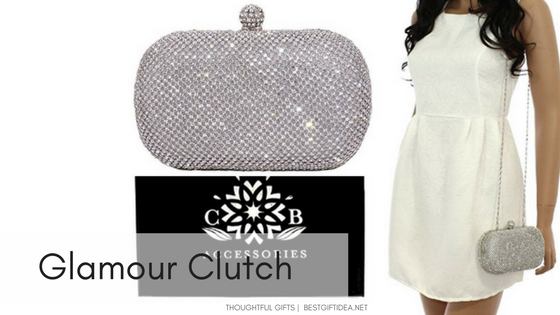 The accessory jewel is a must-have in any bag collection and will also make a one-of-a-kind gift. Because it is really more like a jewelry, then an ordinary lady bag. It is actually quite small from the inside. Maybe it would be too tiny for a bigger phone (like iPhone6s), but anyway the room is enough for credit cards, ID, money, a lipstick and a few touch up products.
This Glamorous Evening Crystal Clutch here is glittery, very pretty and does not look cheap as do some shiny bags. Worn with a classic little black dress, it will stand out beautifully. Just like a celebrity on the red carpet!
Check HERE for the Glamorous Evening Crystal Clutch.
# 16 Swarovski Gifts for The Sporty Woman
Looking for a wearable that actually looks more like jewelry? Who says that sporty women don't like to sparkle?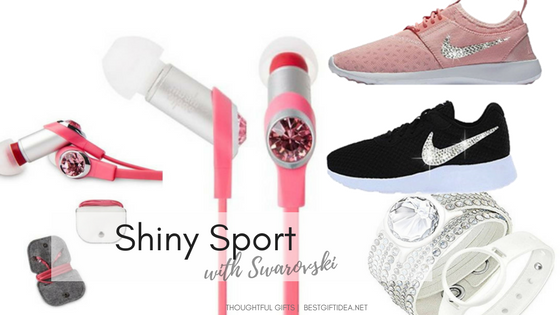 sparkling headphones – check HERE

gorgeous sneakers with sparkling logos – check HERE -Brand New Adidas originals plus authentic Swarovski Crystal Rhinestones  – the perfect formula for a fabulous gift for the active lady.
Nike and Adidas are a crucial part of every modern girl activewear. But imagine the classic originals with sparkling logos – this is what I call truly stunning sneakers! Imagine more than 200 sparkling Swarovski crystals spread over each pair to transform the classic comfy shoes into truly amazing "blinged" Swarovski sneakers. I am not sneakers fan although I know sneakers are the most comfortable shoes. It's just a personal choice and preference. But I admit – if I ever choose to buy a pair of athletic shoes, this would be my choice. Stylish, but not too glitterish for the real sporty woman.
This Swarovski gift idea is also customizable, so you can't find it in the official Swarovski online store. There are several online shops that offer blinged sneakers. Swarovski Nike® Juvenate Athletic Shoes, for example, are made with hundreds of premium Swarovski Xirius Rose-Cut crystals featuring the rarest and most expensive Swarovski X-Cut Technology. If you prefer handmade, ShopPinkIvy is a great Etsy shop with plenty of satisfied customers and more than one hundred different options, brands, colors, and types.
active bangle to track activity like fitness and sleep – check HERE for Swarovski Slake Deluxe Activity Crystal Set – the expert gift for the fashion conscious modern woman.
Swarovski's Activity Crystals assortment is one of the first activity tracking jewelry collections designed for all-day wear. This versatile and practical set includes an elegant Swarovski Activity Tracking Crystal that not only measures your activities and tracks your sleep behavior but also syncs with your smartphone. The activity tracker can be worn with a retro, white sports band or, for a more trendy vibe, can be worn with the Slake Bracelet in white Alcantara(R) fabric with sparkling crystals..
# 17 Swarovski Smart Jewelry for The Techie Woman
The memory sticks have become one of the most useful gifts for any occasion. But when adorned with little shiny crystals (Swarovski of course), here's the result: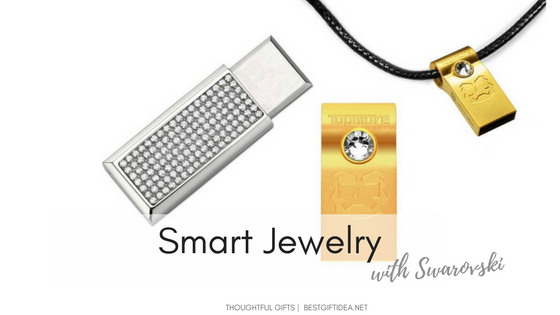 Swarovski Vao 8GB USB Memory Stick by Swarovski  – check HERE – it can store up to 8 GB of photos and files. Embellished with a large number of faceted tiny clear crystals, it makes a great gift which will prove useful while at work or travel.
High-Speed Memory Stick (32GB) Swarovski Crystal on leather wax rope braided necklace or bracelet – check HERE – the flash drive comes with a delicate gift box, ready to be given on any occasion.
# 18 Swarovski for the Business Lady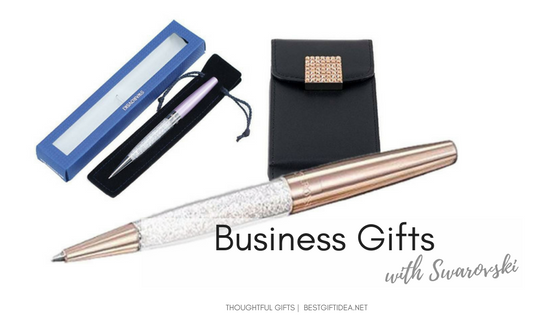 As you see, we should be thankful to Daniel Swarovski for all this shine and glamour! Hope you found the exact Swarovski gift you need. If not – just ask in the comments below. And don't forget to pin this post to your GIFT IDEAS Pinterest board or maybe share it with your friends.
If you're curious to know more about the Swarovski's inventor, how to recognize real crystals and avoid fakes plus handy tips on how to take care of your Swarovski, just hit the NEXT PAGE down or follow the link here