Gifts in a Jar Recipes – Lovely & Savvy DIY Christmas Gift Idea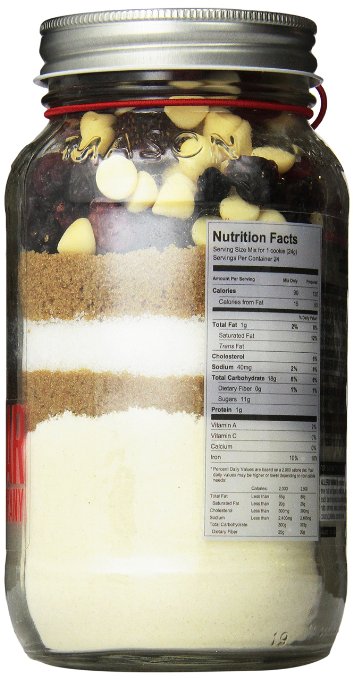 It's cold outside and it's almost Christmas. Can you feel the Christmas spirit - all the lights, decoration and expectancy of the holiday when being surrounded by precious people? Which mean - the best combination that puts us in the mood to bake! And give gifts in a jar! 
As I once read somewhere: the 3 main ingredients of holiday are the three F's - family, friends and food. Can you guess what the perfect connections between them is?  Gifts!! -> Gifts for foodies! -> Gifts of food!  So why not give your sweet-toothed friend a head start with baking this Christmas? It's a super easy to make (with your bare hands) a gift in a jar. With some simple instructions and achievable recipe, the gift recipient will be surprised and gladly impressed. It's up to you to choose the recipe since this Christmas gift idea is quite edible.
If you have some favorite recipes for sweet delights of your own, feel free to create your own variation. But if you're stuck and have no idea about the exact ingredients, proportions (in order to fit in the jars) and how to start, just check my favorite 12 gifts in a jar recipes suggestions listed below. You can try them out bravely as they are tested (prepared and eaten successfully - mission completed!). Brownies, muffins, sweat bread, fudge and cookies (of course, Christmas cookies!) - they are awesome for a baking person as well as for a bakery novice.
# 1  Gifts in a Jar Recipes - 
Brownie Mix
Dry ingredients:
1 jar (of 1 liter )

1/2 teaspoon salt

2 1/2 cups flour

1/2 teaspoon baking soda

3/4 cup cocoa

1 1/2 cups brown sugar

1 1/2 cup granulated sugar

3/4 cup chopped dark chocolate / dark chocolate buttons
3/4 cup chopped milk chocolate / milk chocolate buttons
3/4 cup chopped white chocolate / white chocolate buttons

100 grams of walnuts or pecans
Add wet ingredients:
150 grams of melted butter

3 large eggs

4 tablespoons strong coffee

1 teaspoon vanilla extract
Do this: Mix salt , flour and baking powder in a bowl. Layer tightly the ingredients in the following order: half of the flour mixture ->  Cocoa -> the rest of the flour mixture -> brown sugar -> powdered sugar ->dark chocolate -> milk white chocolate -> Walnuts / pecans.
# 2 Triple Chocolate Fudge Cookies
You need:
Start layering the cake mix package and then pour in the Chocolate Chips. Put the silver jar topper on top, place the Red Bandana on top, then screw on the jar's lid.  Tie some twine around the jar. For the cookies to be done, you'need some wet ingredients:  2 eggs and 1/2 cup Vegetable Oil. The rest of the recipe is quite easy:
Beat together the eggs and oil in a bowl. Then pour in the content of the jar, and stir well with spoon. Mix the dough and leave it chill in the refrigerator for about 15 minutes. Then shape rouded balls and drop them onto ungreased non-stick cookie sheet. Bake for approx. 8 – 9 minutes at 350 degrees.
The whole recipe - by Heidi at TheFrugalGirls.com
# 3 Banana Oat Nut Bread Mix Gifts in a Jar Recipe
Layer 1 (the bottom ) - whisk together 1/2 cup white flour,  1 teaspoon dry buttermilk powder, 1 teaspoon baking soda, 1/2 teaspoon salt, & 1/2 teaspoon cinnamon and add it to the bottom of the jar.
Layer 2 - 1/2 cup brown sugar
Layer 3 - 1/2 cup whole wheat pastry flour
Layer 4 - 1/2 cup oat bran
Layer 5 - 3/4 cup rolled oats
Layer 6 - 1/2 cup chopped walnuts
Layer 7 - 1/4 cup chopped walnuts wrapped in plastic.
Full instructions plus printable gift tags (with instructions) see here.
# 4 Fall Cookies
To fill the gifts in a jar, you have to start with a layer of 1 1/2 cups flour, 1/2 tsp. baking soda, 1/s tsp. baking powder, 1/2 tsp. salt. Then add 1/2 cup brown sugar followed by 1/2 cup sugar. Then add 2/3 cup milk chocolate chips. Top off with 2/3 cup Reeses Pieces.
The wet ingredients for the whole recipe are: 1/4 cup butter, 1/4 cup oil, 1 egg, 1/2 tablespoon vanilla.
For the final result you must do only 4 things: first, whisk the wet ingredients into cream; second, add the content of the gift in a jar; third, mix everything and place small balls on greased cookie sheet; fourth , bake for about 7-8 minutes in a preheated to 350 oven.
Full directions plus printable tags you'll find by Kristyn here.
# 5 Holiday Panettone Gifts in a Jar Recipe
Panettone is an Italian sweet bread flavoured with dried fruit. It's typically enjoyed during the holidays, but with ready-to mix-ingredients your gift recipient can enjoy it anytime of year.
All you need for this very special sweet bread in a jar recipe is:
The rest is easy. All the dry ingredients (flour, salt, sugar, yeast) should be whisked together. This mixture will be our first and basic layer. Then start adding the fruits, layered one by one. Once the jar is all full, seal it up. The decoration is up to your taste as you can see some supplies ideas here. 
The whole recipe instructions sounds like this:
Empty panettone mix jar into a large bowl.
Heat 1 cup milk, 1 stick of butter, 1/4 cup honey and 2 tbsp. grated lemon zest to 120 degrees. Stir into mix.
Mix 2 lightly beaten eggs and 1 tsp. of vanilla extract. Cover with towel and allow to rise over 1 hour. (The dough should double in size)
Butter 2 5x9 loaf pans. Pour mixture into loaf pans, cover and allow dough to rise again for one hour.
Place loaf pans in 350 oven and bake for 55 minutes
Buon appetito!
 # 6 Hot Chocolate Jar Mix
Is there anyone who doesn't love hot chocolate in cold winter time?  
This recipe is really simple, and the ingredients look just amazing all layered in a big, tall mason jar, quart size. All you need is some dry milk powder(6 tsp),  powdered creamer(6 tsp),  cocoa powder (3 tsp), and powdered sugar (6 tsp) to create the perfect mug consistency of steamy & creamy hot chocolate. It's holiday, so mini marshmallows (1/2 cup), crushed candy canes (2 tbsp), and mini chocolate chips (2 tsp) make the final touches of this chef d'oeuvre. They have another important role as well - to fill the space in the rest of the jar and keep all the layers of ingredients in the right place. 
You can find the full instructions plus handy printable recipe tags here.  
See the rest of the sweet gifts in a jar part 2 recipes. 
Choose between Bormioli Rocco Fido Square Jars and Round Mason Jars