Celebrities Christmas Tree Decorations
Did you  decorate your Christmas tree already?
How is it looking like this year? Did you pick up specific colors or made your Christmas tree decoration quite traditional?
If still planning to decorate (and not yet actually did it), here are some ideas on how celebrities' Christmas trees look like. Feel free to get an idea or two. And don't feel bad that you can't afford all this luxury – rich and famous celebrities are known for going over the top when it comes to dropping money on life's little conceits.
Just be inspired by the celebrities' Christmas tree style and maybe bring some glam into your home.
# 1 Red & Pink Christmas Tree
O-M-G! Love the girlie look! This pink sparkly Christmas tree took my breath away ever since I saw it on I Should Be So Jazzii Blog ! Kylie explained that she'd decorated this tree herself as part of a charity initiative for ITV's Text Santa.
# 2 Gold &on  Red Christmas Tree
Ok, I admit – if I was a man, I would probably first ever notice Alessandra's endless legs. BUT I'm a woman in the Christmas mood. 🙂 And can't  be more stunned by this (approx) 10′ gorgeous fresh tree. The Victoria's Secret Angel knows exactly how making her LA home ready for Santa Claus!
# 3 Purple Christmas Tree
# 4 Snowy White
# 5 Gold, Gold, Gold
# 6 Icicles Decoration
# 7 Colorful Christmas Tree
# 8 Shiny Colors
# 9 Balls & Ribbons
# 10  Turquoise Ocean Spirit
# 11  Gold & Turquoise Christmas
I love everything about this Christmas tree picture! Beyonce posted this heartwarming Instagram snap of her sweatie pie Blue Ivy staring at the decorated tree. The pic dated back some years ago (2014 to be precise), but this  is one of the most beautiful Christmas tree I've ever seen. Yes, Beyonce is known for her classy aesthetics. And her big heart around holidays too.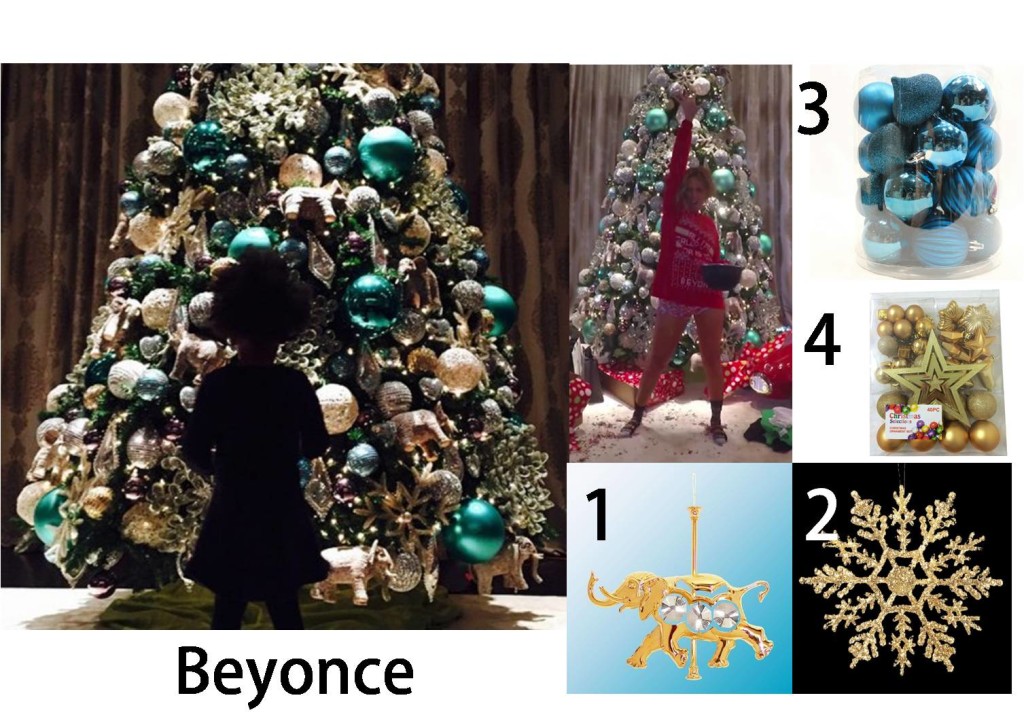 1/Check 24k Gold Elephant Ornament – Clear Swarovski Crystal
2/ Check 12-pc Gold 4 inch Snowflake Christmas Ornaments
3/ Check 26 Holiday Time 2-1/4″ Christmas Bulb Ornaments (Turquoise)
4/ Check 40PC Gold Christmas Ornament Set
# 12 Fairy Pink Christmas
# 13 Luxury Christmas Ornaments of A Luxury Woman
For my Christmas tree this year (2017)I picked only shiny balls this year. And a real pine. I am so thrilled! I have a ritual – I buy a new glass Christmas ornament every Christmas as I know that bringing something new for the Christmas decoration brings luck too. (according to Feng Shui and my own intuition – read more on Feng Shui Lucky objects here) Have a great Christmas (and glamorous tree)!