February Birthday Gifts & Days To Celebrate in February 1-11th
February promise to be an exciting month with all the coming days to celebrate. I know what you're thinking of – love, valentines. Valentines, love. But luckily, there are lot more celebrations, even lesser known. Moreover, if you need birthday gift ideas for lovelies born in February, these holidays give you fresh ideas on how to theme your gifts.
 Take a ride in the first 10 days of February and check what (and how) to celebrate this month!
But first,
Some Brief Information About February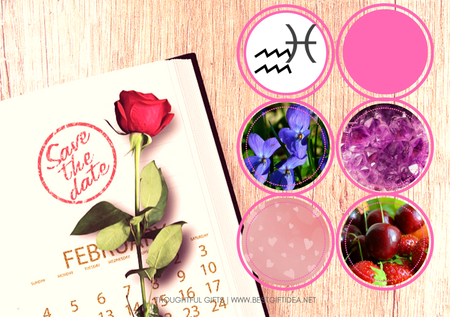 Topic – Love (because of Valentine's day of course!)
Flower – Viola (also Primrose)
Gemstone/Crystal –  Amethyst
Color –  Pink/Purple
The Name
According to Wikipedia, the Roman month Februarius was named after the Latin term februum, which means purification, via the purification ritual, Februa, held on February 15 (full moon) in the old lunar Roman calendar.
Any Leapers Around?
February may be the shortest month of the year as it is the only month to have a length of fewer than 30 days. But it's certainly one of the most exciting months. February has 28 days in common years and 29 days every 4 years, in the so-called leap years. In other words, there's additional 29h February if the year is divisible by 4. It's called leap day. Which is a very unique and special day. Especially for those who are born on 29th February.
A person born on February 29 may be called a "leaper", or a "leap-year baby". In non-leap years, some leapers celebrate their birthday on either February 28 or March 1, while others only observe birthdays on the authentic intercalary date, February 29.
Imagine a birthday once in 4 years. Is it meaning that these people are getting old 4 times slower? No, of course. But it's a good reason to give a gag gift and make jokes. 🙂
Well, 2018 is not a leap year, anyway. Period.
February 2018 Main Topics:
Cherry Month
Library Lover's Month
---
Gift Topics:
# 1 Birthday Gift Themes for Foodies  in February 2018
9th February – Pizza Day (yum!)
18th February – Wine Day
# 2 Birthday Gift Themes for Sweet Aficionados  in February 2018
5th February – Nutella Day (yum!)
20th February – Cherry Pie Day
27th February – Strawberry Day
# 3 Baby/Kid Birthday Gift Topics in February 2018
8th February – Kite Day
26th February  – Tell A Fairy Tale Day
# 4 General Birthday Gift Topics  in February 2018
3rd February – Lace Day
10th February – Umbrella Day
16th February – Almond Day
22nd February – Yoga Day
26th February – Playing Cards
27th February – Everything strawberry on Strawberry Day
28th February – Everything Pink on Pink Day
# 5 Appreciation Gift Topics in February 2018
7th February – Ballet Day
11th February – Marriage Day
24th February – Bartender Day
# 6 Awareness Days & Other Special Celebrations in February 2018
2nd February – Wear Red Day
4th February – Cancer Awareness Day
13th February – Radio Day
# 7 Handmade Gift Topics in February 2018
3rd February -Repurposed Lace Gifts on Lace Day
26th February – Gifts made with Repurposed laying Cards
# 8 Party Topics in February
8th February – Kite Competition Party
9th February – Pizza Night Party
16th February – Chinese New Year
18th February – Wine Day
20th February – Cherry Pie and Twin Peaks marathon
26th February – Play More Cards Day Party
# 9 Activity Celebration Day
17th February – Random Act of Kindness Day
** This following post contains affiliate links. Despite that, the written in here is honest and based on my own opinion or/and experience, research and wish to share my awesome findings with you! 
---
DAILY CELEBRATIONS IN FEBRUARY 2018, 1st – 11th
2nd FEBRUARY | FRIDAY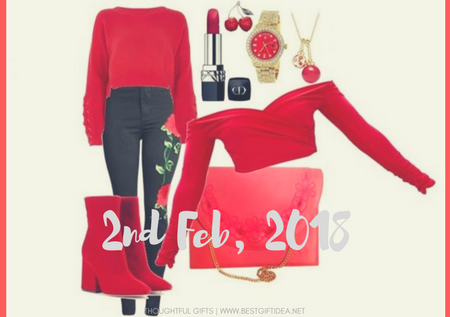 WEAR RED DAY
Wear Red Day may sound so in common with fashion. But it's actually a day when many people wear red to show their support for the awareness of heart disease.
The Heart Truth is a US awareness campaign for women about heart disease sponsored by the National Heart, Lung, and Blood Institute.  Created to warn women of their #1 health threat, The Heart Truth introduced the Red Dress as the national symbol for women and heart disease awareness first in 2002 to deliver an urgent wakeup call to American women.
February Birthday Gifts & Gift Ideas for people who celebrate a birthday on 2nd Feb 2018:
---
 3rd FEBRUARY | SATURDAY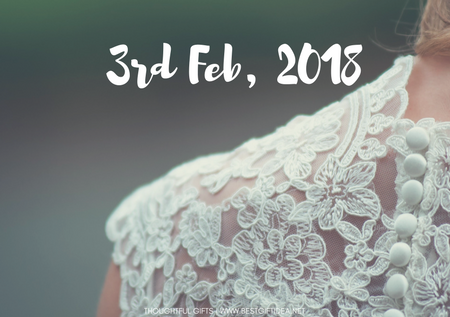 LACE DAY
"I consider lace to be one of the prettiest imitations ever made of the fantasy of nature" Coco Chanel
Get it? Elegant. Classic. Delicate. Tender. Feminine. Romantic. Drama. Sexy. Hot. Vamp. No wonder women love lace so much. Men too. Even more.
There's simply no sexy lingerie without lace details. There's almost no dreamy wedding dress that misses lace elements. Fashion tops. Trendy jeans. Sexy see-through effect black dresses.
The good news for 2018 – lace trend is here to stay!  Everyone can wear it.
Lace is used for everything you can imagine, not just underwear. But also accessories. Decorations. Remember the so-popular lace doilies? Yes, these were a big hit in the 90s. Although now considered as vintage, they still remain classy. And romantic.
February Birthday Gifts & Gift Ideas for people who celebrate a birthday on 3rd Feb 2018:
---
4th FEBRUARY | SUNDAY

CANCER AWARENESS DAY
Not actually a fun day. But one of the most significant days of the whole year if you ask me.
World Cancer Day hopes to honor those who are fighting and those who have been lost to this dreadful disease. It's a unique day of remembrance. And determination. I hope when reading this, you're one of those happy people who is not touched by cancer directly or indirectly.
The noun celebration on this day sounds actually not appropriate. But there are many things you can do to honor the Cancer Awareness Day. Whether educating yourself or your children or joining events that raise funds in your local communities. Or worldwide. Even giving a call to a loving someone who's fighting with the disease, it's a time to make a little step forward to the day when cancer won't be a common topic and almost a verdict.
There are fund-raising events all through the year, not just on this day that you can join.
(The following links are not affiliated cause I just feel isn't right to take any sort of benefit on such a sensitive topic. I only present them. If you like the cause and want to give a help, gift someone you love any of these cute little symbols. Or buy for yourself. ) 
February Birthday Gifts to contribute on 4th Feb 2018:
Red Ribbon 

12-Pack Gift Socks for Women with Gift Box
---
5th  FEBRUARY | MONDAY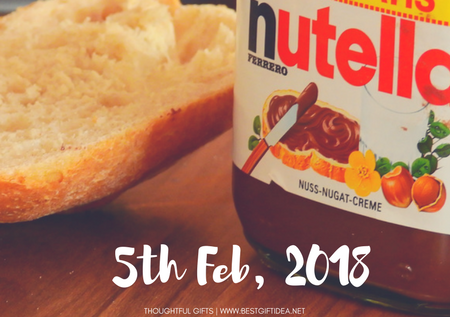 NUTELLA DAY
My family loves the delicate yummy taste of the hazelnut choco cream! There's even a small Sunday-Funday-ritual at home. Pancakes with Nutella. Do you really need any reasons to celebrate today?
Join nutelladay.com. Indulge in a jar of Nutella! Share with friends! You just can never get wrong with Nutella
February Birthday Gifts & Gift Ideas for chocolate lovers who celebrate a birthday on 5th Feb 2018:
---
7th FEBRUARY | WEDNESDAY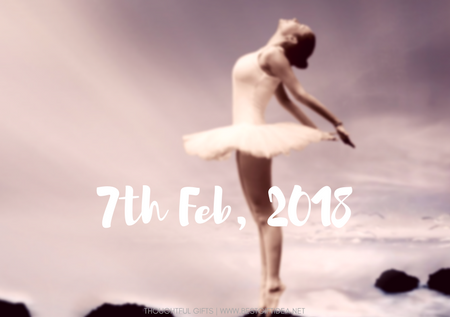 BALLET DAY
There's something whimsical about ballet. I can't estimate if it's the music, the fluffy outfits, the passion of the dance, the graceful movements,  the decor, the ballet dancers' beauty. But the ballet performance is a beyond-this-world-experience that must happen in a lifetime.
How to celebrate? Of course, Ballet Day encourages you to get out and visit a ballet performance. To give a big respect to all the efforts of ballet dancers to recreate magical stories on stage; dance as they aren't touching the ground; fill your souls with passion and beauty of ballet art.
If you can't go to a ballet, let the ballet comes to you! Many videos are taken and uploaded on YouTube. Search for them and play on. Nutcracker is definitely my favorite. Find out what's yours!
February Birthday Gifts & Gift Ideas for art lovers, ballet dancers and people who celebrate a birthday on 7th Feb 2018:
---
8th FEBRUARY | THURSDAY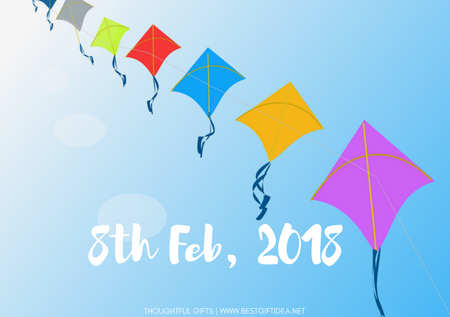 KITE DAY
Kites were invented in the early 5th century. In China. Since then, kites are one of the most lovable activities in childhood. And not only. Brightly colored paper sprinkled with glitter, ribbons and everything you can think of. Do you recall those joyful days back in school when you were little and you were out with mom and dad to test your new kite? The encouraging yells when the kite was just about to lift up in the air? 'Hold the string, hold the string!". Magical feeling…watching the kite rise and fall and spin and fly. Freely.
Kite Flying Day was actually created to remind us of the freedom that we feel when holding the floating through the air kite. And enjoy this feeling one more time. With friends,  or with your kids, depending on your current situation.
If you feel like celebrating today, get crafty and make a kite. Better if you have kids around. There are many video tutorials on YouTube. With the right materials and glue, the results may be fascinating and exciting.
If too complicated for you anyway, buy a kite. If the weather is good for kiting, pack a lunch and go kiting. And let your dreams fly with the kite!
February Birthday Gifts & Gift Ideas for people who celebrate a birthday on 8th Feb 2018:
---
 9th FEBRUARY | FRIDAY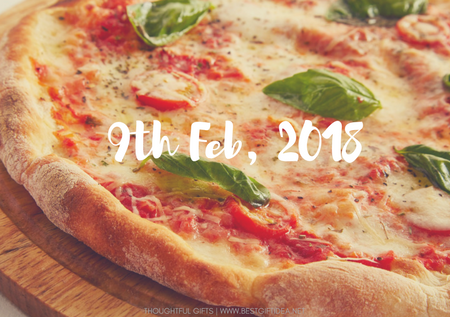 PIZZA DAY
Okay, this is what I truly call a foodie celebration. Definitely celebrating today with a huge Quatro Formaggio Pizza. Or Margherita. Or both. Double yum!
I personally don't need a special holiday to indulge a pizza. Luckily, my family loves pizza, too. So at least once per week, I buy or prepare myself a family pizza. With a homemade dough. Fantastic.
I bet the women who most likely invented this simple snack 11 centuries ago, in Italy, had no idea about the instant success of this flatbread, spread with tomato sauce and sprinkled cheese.
Pizza made its appearance in America in 1905. In New York City. Thanks to a pizzeria called Lombardi's. Amazingly, they are still in business. So if you want to taste the very first real pizza that hit America and light up the pizza passion, head over to Little Italy in Manhattan and check the taste.
I also bet you don't really need to tell you how on earth to celebrate this foodie heavenly day. Anyway, eating a pizza is just too boring! Why not create your own pizza? [don't forget Instapic your masterpiece!]
If you're not a kitchen aficionado head over to a new pizzeria. Or order a set of different small pizzas that you've never tasted, instead of the ordinary fav family pizza that you've always put in your bellies.
Maybe some pizza kitchen gadgets would improve your pizza experience? Or make a super cool gadget gift to the pizza lover in your life?
February Birthday Gifts & Gift Ideas for foodies who celebrate a birthday on 9th Feb 2018 and all pizza lovers:
---
10th FEBRUARY | SATURDAY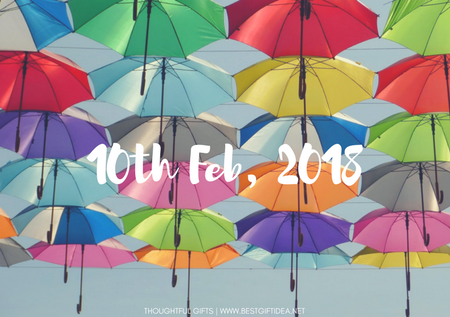 UMBRELLA DAY
Umbrella is one of those items that are always fashionable, always useful and always great gift idea. Because everybody needs this everyday gear.
Umbrella has a very long and noble history. The oldest records of umbrella appearance date back 21 AD, in Ancient China.
The popularity of the umbrella extended beyond its usefulness. In old times, umbrella used to be a sign of nobility. Exquisite lace umbrellas were parts of the noble ladies outfits during summer. Today there are many innovative umbrellas. Even umbrellas that make a statement. While the collapsible umbrellas that fit in lady bag are way too practical, thus not expensive and easily available, the genuine foldable umbrellas stay more classy.
To celebrate today, go out on Umbrella Day and find the amazing and super trendy umbrella that worth spending fortune on it. You deserve the best, right?
February Birthday Gifts & Gift Ideas for people who celebrate a birthday on 10th February 2018: 
---
11th FEBRUARY | SUNDAY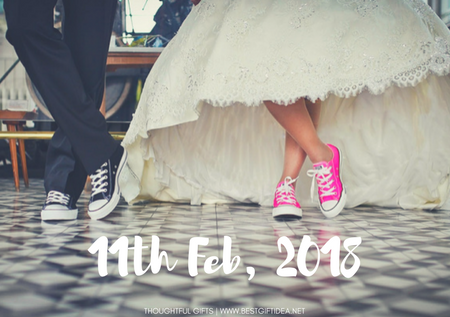 "World Marriage Day honors husband and wife as the foundation of the family, the basic unit of society. It salutes the beauty of their faithfulness, sacrifice and joy in daily married life.",  Worldwide Marriage Encounter
Nowadays, marriage is considered to be only the formalization of a relationship between a loving couple. But marriage means more. Devotion. Responsibility. Split duties. Willing to share life. Officially Mrs and Mr.
Marriage Day celebrates everything about marriage. It is actually a great day to propose to your partner, or even tie the knot!
 February Birthday Gifts & Gift Ideas for people who celebrate Marriage day:
You can check lots of cool engagement gift ideas HERE and HERE.
---
 Check what celebrations February has to offer you in the second part of the post. Plus lots of February birthday gifts and themed daily activities. Can't wait to share with you!
Every month you'll get a clear idea what celebrations are coming and how to theme a birthday gift according to the specific date celebration in 2018.  Are you ready for an awesome & amazing new 2018 year? 365 days, 365 challenges, 365 gift choices, 365 ways to celebrate! Whole 12 months to enjoy! Reasons to be happy! Gift ideas for those who celebrate an occasion in February!
Let's kick off the months of 2018 together and get prepared for some cool, funny and weird celebrations and holidays!