Scary Halloween Makeup – 15 Inspirational Ideas That Will Blow Your Mind
To frighten or to dazzle your friends at this year 31st October party? Wanna look creepy or charming? Well, these scary Halloween makeup ideas might help you… and BLOW YOUR MIND…!
Still remember what Halloween was all about? Yes, it was all about scaring and warding the evil spirits off. While children like to dress up in the scariest costumes and masks they can think of, their parents generally prefer to have more fancy attitude and count on superheroes outfit. Therefore, many of the adult parties have little in common with the traditional Halloween concept. But if you choose to make an outrageous scary Halloween makeup, you'll definitely get into the Halloween spirit.
** This following post contains some affiliate links. Despite that, the written in here is honest and based on my own opinion or/and experience, research and wish to share my findings with you! 
Why Scary Halloween Makeup?

Halloween originated from the ancient Gaelic ritual known as Samhain (pronounced "sah-win") -the celebration of the end of the harvest season, when the living and the dead overlap and – here's the creepy part – the dead came back to walk the earth and wreak havoc by spreading disease and ruining crops. Bonfires would be lit, masks and costumes would be worn, just to appease and ward off evil. And to make fun. A lot of fun – with trick-or-treating, guising, horror movies, jack o' lanterns, haunted attractions. Halloween wouldn't be complete without all the parties that take place. It is a time for losing inhibitions and having a great time. And no, it's not only for children. We can have fun too, guys!
Why Makeup? 
To get into the spirit of Halloween, you need a guise. And a great way to make it on your own is to come u with a scary Halloween makeup. You can find inspiration in all the supernatural figures such as vampires, zombies, monsters, ghosts, skeletons, witches, and devils. Just buy some zombie face paint or a fake blood kit, or simply use black eye crayon, lipstick, gloss, and other makeup essentials.
Here are my 15 favorite facial Halloween scary makeup that I know. While you are watching, I'll be probably still thinking hard which one to choose for this year Halloween party:
---
# 1 Cheshire  Horror Cat
---
# 2 Lady in Red
---
# 3 Half-Dead Night Princess
---
# 4 Scary Stretched Mouth
---
# 5 I Am Watching You
---
# 6 Sugar Skull
---
# 7 Creepy Flesh Mask
See the whole tutorial on her youtube channel.
---
# 8 Queen of Hearts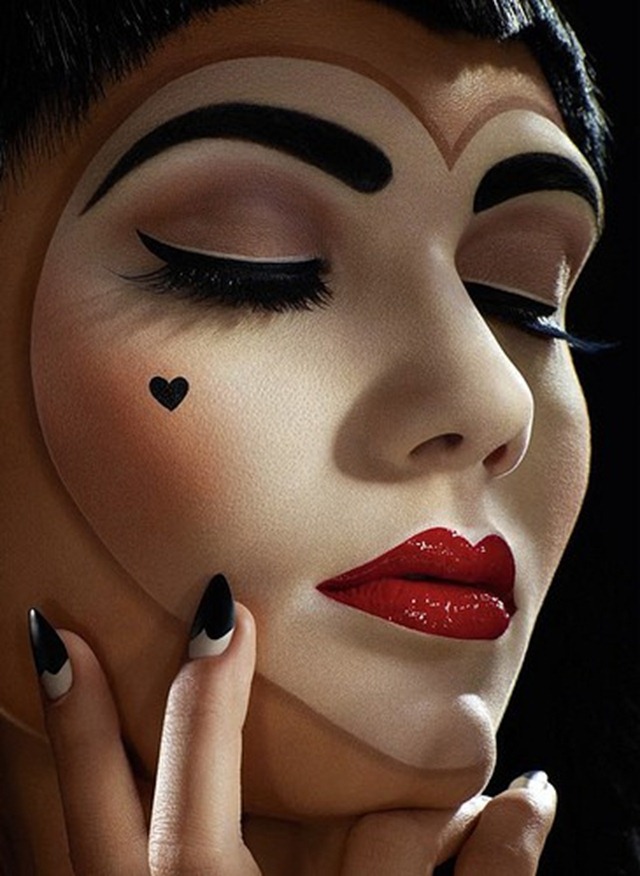 Not that scary, but pretty for sure!
---
# 9 Spider Lady
---
# 10 2-Faced Zombie Girl
---
# 11 The Evil Ventriloquist
---
# 12 Double- Faced
---
# 13 Jigsaw
---
# 14 Demon Mouth
---
# 15 Corpse Bride Make Up
---
Inspirational, huh? Just want to remind you of something IMPORTANT:
Always remember how cautious you are with your everyday makeup!
According to Joel Schlessinger, a board-certified dermatologist, and RealSelf.com adviser, costume makeup often contains artificial dyes, fragrances, waxes, and oils, all of which can clog pores, cause breakouts and irritate skin. So the basic advice here is to avoid all the ingredients you wouldn't want in your everyday makeup. To be sure that your Halloween doesn't turn into a real nightmare ( because of an allergic reaction), pay more attention to the price and focus more on the ingredients part. Also, never use stationary on your face skin (or any other) like highlighters, washable text markers, Sharpies, glitter glues, correction liquids, etc.

 Anyway, if you know that your skin is sensitive, better choose the Halloween scary makeup alternative –
costume of a zombie, witch or vampire
. There are tons of options for your scary look, but you might be interested in some of the best 
celebrity Halloween costumes for all your dress-up inspiration.  Check how cool are Heidi, Kim, Christina, Kate, etc. in their Halloween outfits.