Need some wedding guest book ideas?
The wedding guest book is a great way to look back and remember -the wedding day (at some point the excitement will begin dying down…..); the people who shared those special moments with the newlyweds  (reading my grandparents' words of wisdom always makes me cry, especially now, when they're both gone) ; the lovely messages for happy marriage! Pick one of these 16 amazing wedding guest book ideas to cherish your memories forever after!
** This following post contains some affiliate links. Despite that, the written in here is honest and based on my own opinion or/and experience, research and wish to share my findings with you!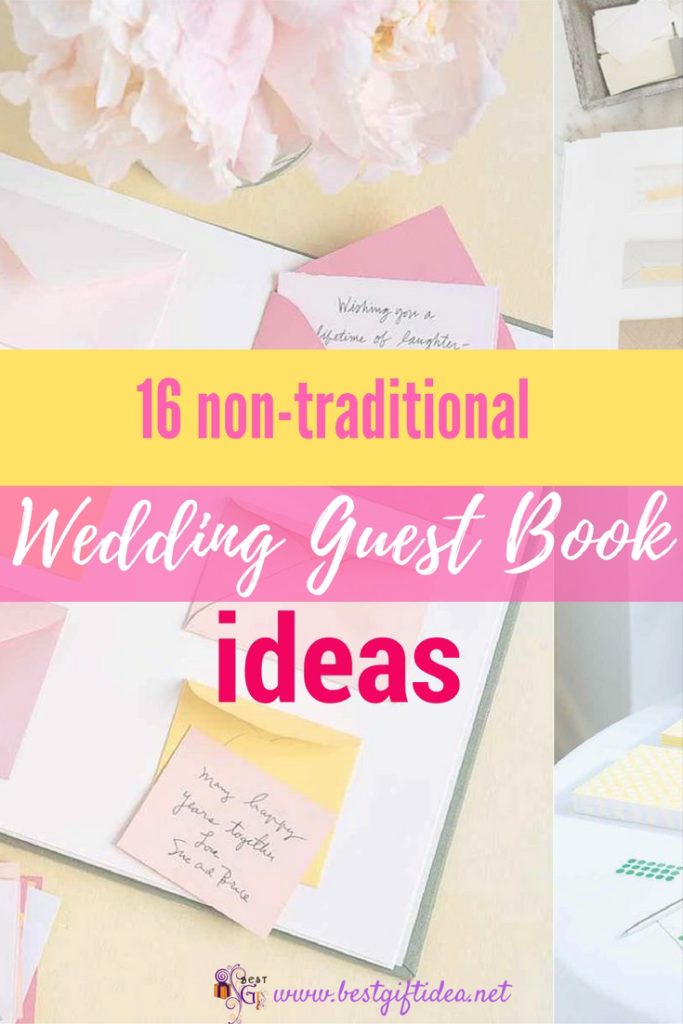 The Perfect Wedding Guest Book
The key word for the perfect wedding guest book is P-E-R-S-O-N-A-L-I-Z-A-T-I-O-N!
The key action is E-N-G-A-G-I-N-G the GUESTS (more than EVER)!
I LIKE the traditional guest books where the guests are supposed to write lovely notes of congratulations and support. But there's always a risk for the guest book to be left on a bookshelf and never be opened again (if ever opened after the reception at all!).
I LOVE the idea to transform this "leaving-message-in-a-guest-book" part of the wedding into a fun and unforgettable activity that makes it memorable not only for the couple but for the guests as well.
But HOW?
Well, it's not difficult to come up with a unique guest book idea. You only need to think out-of-the-box. And personalize as much as you can. Therefore, adding some significant meaning. Playing with symbols. Offering entertainment for the guests. And letting them know that their attendance at the wedding reception and their message (no matter what you are asking them to write down) do really matter.
Having some wonderful ideas?
If you have no idea what I am talking about, simply look at the pictures below and you'll understand.  I've recently found these wonderful wedding guest book ideas that are not involving photographs. I really hope you'll enjoy as much as I do (you know that feeling when seeing something and telling yourself – "I MUST share"?).
So, …. if you are the one, who's on the wedding path, let you be inspired by these 20 extremely cute wedding guest book ideas that would be so engaging, thoughtful and entertaining for everyone at the wedding! (some of the ideas are also a great wedding gift by the Maid of Honor. )
# 1 The "Global" Guest Book
If there are many guests coming from all around the world or the couple is crazy about traveling (or simply come from different countries), the Globe guest book will make a huge impression. Because all of the guests could sign their names by where they are from, and write some short wishes. Just be sure there's plenty of space.
# 2 Love Makes The World Go Round
What I like more is the "Adventure Globe" wedding guest book idea. This is similar to the previous idea. Not only a globe, but a huge map will do the same work. If most of the guests are not so "international", then suggest them to mark places giving the newlyweds some travel inspiration – like country, city, a hangout spot, a recommended restaurant to visit… anything that can be useful in future (it's not only a memorable guest book but a very practical guide as well… 🙂 that's what my Taurus personality speaks out loud).  Everyone will enjoy as it is a human nature giving advice and recommendations on traveling topic.
# 3 "Thumbs Up For the Happy Couple" Guest Book
This is what I call a piece of art! That's why the "Thumb Up" wedding guest book ideas above are a really great option for the artsy couples. The only thing is asking guests to leave their fingerprints on a template.
The classic one is a tree, but there are tons of other ideas when searching the Internet. Canvas or high-quality paper prints for this type of guestbook can easily be purchased online. Which one to choose depends on the home decor (where the guest book is supposed to be displayed after the wedding). Because this guestbook will be turned into a long lasting piece of art with a thumbprint tree great enough to deserve a space on the wall!
The only disadvantage is the potential mess. Just be sure choosing washable ink pads and prepare wet wipes available at the "guest book" spot so that guests are able to clean their fingers immediately after "signing" in the book. Definitely one of the most stylish wedding guest book ideas, no doubt! !
# 4 Pieces of Love Jigsaw Wedding Guest Book
Want joyful and simple wedding guest book ideas! Here's one just for you! Hire someone to create a photo puzzle (better to be wooden) with one of your favorite photos. The jigsaw pieces should suit the number of the guests. Then ask your guests to sign a piece of the puzzle with a sentimental note or message. I believe such a photo puzzle portrait won't be stored in the cellar (or another dark lonely place….) but hung on the wall in the cozy couple's home.
# 5 Vinyl Guest Book
Not only looks interesting, but it is a very thoughtful wedding guest book idea. It is great mostly for music themed wedding or couple who love music.  Try finding the first dance of the couple (or their favorite song) on a vinyl, in case you know them. Of course, there are shops for a customized record with personalized labels (with names, the wedding date, and venue- check BridalStock at Etsy.com).  The completed piece would be a great artsy item to display.
# 10 Never Forget The Guests' Birthdays
This is one of my favorite wedding guest book ideas! Why shouldn't I think of it before! (it is very thoughtful for a Christmas gift, too). It is very simple ideas since all you need is a planner and  some cute themed decoration. Tell your guests write their names and well wishes on the date of their birthday. Not only you'll have one-of-a-kind guest book, but also an organizer that will remind you of all the special days of all dear people (from both sides) who attended your wedding party. A great way to start your new life as a married couple! I told you, I love simplicity and practicality. 🙂
# 12 Wishing Stones
There's a Celtic tradition of the oathing stone. That means the couple holds or puts their hands on a stone during their vows to "set them in stone" which is a beautiful superstition. Why not incorporate this tradition into an extravagant wedding guest book?  The hardest thing is finding the stones (they must be rather smooth so if you have a beach or a lake nearby, that's your place). Paint-style oil markers or enamel-based metallic pens are also necessary. After guests sign the stones, they can be put all together in a vase, jar or bowl, making a stylish centerpiece in the living room. Yep, marriage life really rocks! 🙂
# 13 Message ON a Bottle
Every wine lover will fall in love with this wedding guest book idea. Asking guests to put their names and short messages onto a bottle is so wonderful! After the wedding, wine bottles can be stored. And drunk of course! (on anniversaries, Valentine's Day, or any other special occasion). In addition, the married couple could showcase the empty bottles as decorative keepsakes.
 # 14 That's What a Fairytale Starts With
It is one of the cutest wedding guest book ideas. Picking up a favorite children's book or a fairy tale that represents the couple's relationship (sort of..) is really awesome (and useful – maybe soon this will be your baby's first book? Actually, this is a very sweet way to announce a baby on way …). Guests are supposed to sign a page leaving a short message. Here's a chance to tell your friends which fairy tale do you belong in! If you are not sure, take a quiz  Which Disney Prince Is Your True Love? or Which Fairy Tale Do You Belong In? Chances finding the right answer (or at least an inspiration) are pretty good. Anyway, any children's book will work as long as it ends with "And they lived happily after". That's how a fairy tale ends with. That's how your fairy tale starts with.. 🙂
# 15 Place of Love Guest Book
If you find a book with photographs taken throughout the city (and surroundings) you met, fell in love  (or any other significant fact like wedding venue), this means you have a great chance of having a gorgeous wedding guest book! (imagine sitting in 30 years, discussing how that street has changed so much from the time you married….)
 I would also recommend the series of children's travel guides of Miroslav Sasek . They will work perfectly if you choose this wedding guest book idea. Although not photographs, the charming illustrations will help you reaching the main goal – to memorize your place of love. And remembering your guests while reading through their wishes of happiness!
# 16 Sign, Seal, Scrapbook
An adorable guestbook idea is to provide mini envelopes into a book and let guests write you tiny letters, glue the envelopes, add some stickers, washi tape frames, images of different significant items (I love cutting them from magazines, catalogs, brochures) etc. Like a scrapbook made by your guests. Pretty smart letting  guests enjoy while making your scrapbook wedding guestbook, hah?
 Aren't these 16 wedding guest book ideas pretty cool?  I bet you fell in love with one at least! As I said in the beginning, PERSONALIZATION matters. But it's not said that this is equal to involving photo booth for the guests and adding photos in the guest book. Anyway, if that's your vision for the perfect way to memorize your guests and love photos, then look for the next post on guestbook suggestions with photos that will blow your mind (I promise). Hope you enjoyed! Feel free to share!
Hugs,
Annie