Alice in Wonderland Birthday Party Theme – A Dreamy Onederland!
Looking for amazing and unforgettable birthday party theme for your baby? How about a dreamy Alice in Wonderland birthday party?
 ** This following post contains some affiliate links. Despite that, the written in here is honest and based on my own opinion or/and experience, research and wish to share my findings with you! 
Do you know that the story of Alice has 150-years anniversary this coming November? So now it's the perfect time to feel the spirit of Alice's Wonderland by picking colors, patters, characters and decoration and throw a magical birthday party for your lovely baby.
As a mom, I always wish to organize an unforgettable birthday party for my child and my guests. A birthday party that simply makes you say "WOW!". A birthday party that would be a great memory for years to come. A birthday party that everyone would like to be a part of.  A dreamy Alice in Wonderland birthday party is exactly what I mean!  Why? Because, it's so enchanting and letting your creativity boost in an indescribable way!
 You can spend a ton of time Googling and Pinterest-ing for ideas, or simply read the following article. You'll find helpful piece of information considering every single detail on your baby's 1st or next big celebrations. Get some inspiration and make a great One-derland party!
"Alice in Wonderland is one of the top 25 books of all time. I always loved the book and I always loved the various characters, the psychedelic nature of it and kind-of odd allegorical stories inside stories. I always thought it was beautiful."
 –Jonny Depp
I posted this quote just to assure you that not only kids like Alice, but adults too. They both will be happy to be involved in this party and feel the magic of Alice's world.
First – a little more about Alice's Adventures in Wonderland. It's a  novel, commonly shortened to Alice in Wonderland, written in 1865  by English author Charles Lutwidge Dodgson under the penname Lewis Carroll. It is a story of a girl named Alice, who fall through a rabbit hole into a fantasy world populated by strange imaginary creatures. It is considered to be one of the best examples of the literary nonsense genre. The book is first published in 26 November 1865, which means it is celebrating 150 years in just 2 months. Through the Looking-Glass is the sequel to Alice's Adventures in Wonderland . Set some six months later than the earlier book, Alice again enters a fantastical world, this time by climbing through a mirror into the world that she can see beyond it.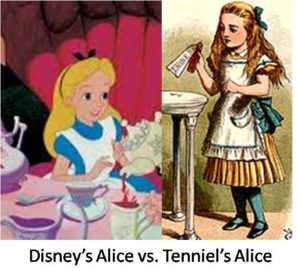 Whether you'll choose the Walt Disney Alice in Wonderland or the shabby chic version inspired by the original John Tenniel's illustrations, you'll make a great impression when choosing Alice in Wonderland birthday party theme.
By the way, back in the days when published, the book itself received very poor reviews with reviewers giving more credit to Tenniel's illustrations than to Carroll's story. At the release of Through the Looking-Glass, the second Alice tale gained in popularity and by the end of the 19th century was written that Alice in Wonderland "was a book of that extremely rare kind which will belong to all the generations to come until the language becomes obsolete." Wow!
As a whole, you can pick up a subtopic of the party (Mad Hatter, Checkerboard, Queen of Hearts, Cheshire Cat) or simply make a mixture of the details you actually fall in love with. After my great research on Alice in Wonderland birthday parties, I have winners.
So let's start with the Alice in Wonderland birthday party essentials.
So let's start
INVITE ME!
BIRTHDAY PARTY INVITATIONS - setting the tone of the party
Setting the tone of an Alice in Wonderland birthday party means a few things:
Tell your guests not to be late for the very important date (the date of the birthday party), just like the White Rabbit :-)
Tell them you'll meet in Wonderland
Use some famous quotes from the book, such as "A very merry unbirthday", "By order of the Queen of Hearts....", etc.
Put a teabag, a playing card , a key or other stuff together with the invitation into the envelope
Ask for response "To The Queen"
There are tons of great Alice in Wonderland party invitations on the market, with the appropriate colors, and decorations. You can purchase them or customize your own versions. It's on your taste, time and budget. And the age of the invited children.
For instance, nice & untraditional is the book invitation, especially if the guests are older. This means to send out a copy of the book as an invitation - you can find a paperback version for a few bucks. Print a simple text invitation using a template (you can find lots of them) and mount it on the first page inside the book, telling your guests the party details.
Just remember – don't skip the invitation! (which is a rule for any occasion!) Because the invitation is setting the tone of the celebration and it's a sort of a hint for the guests what to expect and how to fit better in the party's atmosphere.
If you're crafty person, play with this part and create some mad invitations. It's quite easy with PowerPoint & Word templates and just a little bit imagination.  And cute materials (like these cutout sticker images)
Let's move on...
DECORATE ME!
BIRTHDAY PARTY DECORATION (setting the sprit of the party)
THE BIRTHDAY TABLE
It won't be Alice in Wonderland birthday party if you don't set up the table with teacups and teapots. It is not difficult to arrange the table by yourself. Put down an Alice tabelcloth, fill the teapots with fresh flowers, spread some playing cards and old watches between the teacups. It's a pretty vintage, but oh! so charming look. As for the flowers, find those from the book, like tiger lilies, daisies, roses (especially red and white), violets, and larkspur.
What else could be done? Here are just some hints:
Set up a long table, covered with all different

kinds of teapots

, mismatched teacups and saucers, chandeliers, etc. Combine normal sized teacups with some huge and tiny ones
Scatter Alice in Wonderland related items across the table, like

little golden keys

and keyholes
Put some clocks (ordinary or this mad backwards clock) in the room that are stopped at tea-time
Decorate the walls with playing cards (normal size or really huge cards from cardboard), and the floor with a chessboard-like pattern. Scatter around some chess pieces.
Hang a branch to the ceiling with a Cheshire Cat plush (or just it's grin) in it.
Draw  or stick on the floor white paper rabbit paw tracks , leading in various paths through your house and/or garden
Hang up signs with 'this way', 'that way', 'up', 'down', etc. painted on them
And now I really want to share my best discoverings. For inspiration only: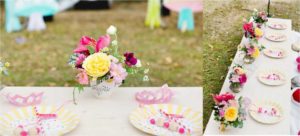 Seen on: LayBabyLay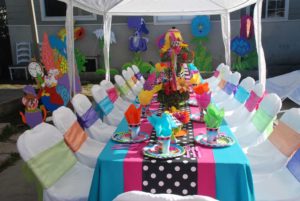 Seen on: Catch My Party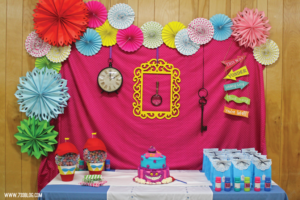 Seen on: 733Blog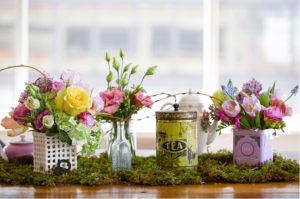 Seen on: Here
Seen Here
For more charming looks - stay tuned.
BIRTHDAY BANNER
Another big part of the birthday decoration is the banner – one for welcoming the guests as they enter the birthday party place and some more hanging from the ceiling or the trees around (depending whether the party is held indoor or in the backyard).
Well, you can always buy something nice from Amazon:
One terrific idea I found on Meghan's blog  is a banner made of the birthday kid monthly or yearly pictures strung up.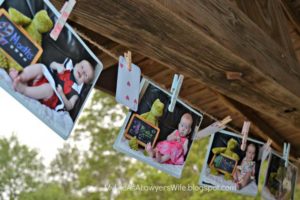 For this you can easily printed each of your lovely prince or princess monthly pictures in 5x7, mounted them on cardstock with a glue stick  and then using pretty clothespins to clip them to a long length of twine. To go with the Alice in Wonderland theme, you might also pin some Alice-themed playing cards (purchased on Amazon) next to each picture. It would be a lot of work to make a correlation between a picture and a card, but it would be a hit!
BIRTHDAY SIGNAGE
Inspired by the story tale, it is wonderful to add some signage:a couple of signs to direct your guests to the party place upon arrival. Look at these adorable ideas:
my simple easy free template for "TURN HERE" sign for an instant download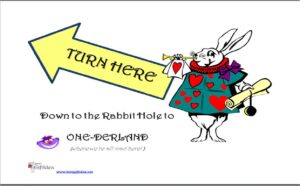 Click here to download : alice-in-wonderland-signage
Alice in Wonderland party signs here for an instant download
[wpfilebase tag=fileurl id=15 linktext=download /]
Or see what's available on Amazon...
Ladies, Head to the.....

EAT ME!
THE FOOD ESSENTIALS
Food is a major part of the celebration. True, ah? But not all! The real picture won't be finished without the right styling and presenting of the food (and drinks,too). It's contributing to the uniqueness of your party.
 Usually kid's birthdays are held in time, when there's no need of tons of food. I always prefer some light snacks and sandwiches (there are easier to be eaten and I can always use some f those cute, funny, colorful paper plates). Oh, and cupcakes! (before rushing to the local brasserie, check out these 15 easy homemade cupcake recipes...not all of them :-) just pick one-two). Everyone loves these cute, tasty desserts, especially the kids. Rev up the appetites with some extra cute cupcake toppers (under the Alice in Wonderland theme), which could be found on the market. (click on the images below to large view and check price)
And for the birthday cake - a whole set, telling the story of Alice:

Alice in Wonderland birthday party theme is so wide and inspirational that you might not resist of making variety of interesting and so so charming food. Here's a small and quick selection of ideas which could be found in time-lasting Googling: (click on the images below to large view and check price)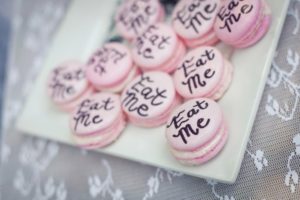 Found on M-Magazine.com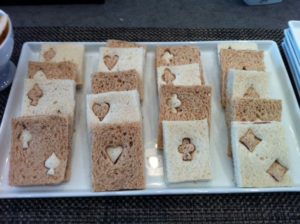 Tea sandwiches - found on Celebrating the Big and Small : use these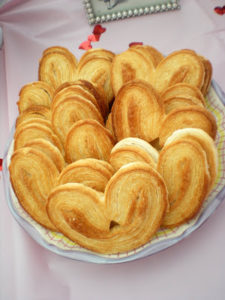 Heart Shaped Patisserrie - LarkAndLola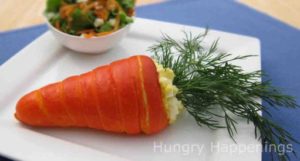 Carrot Crescents filled with Egg Salad:By HungryHappenings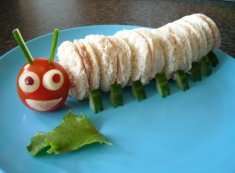 Caterpillar Sandwiches by Funky Lunch
These Alice in Wonderland party ideas wouldn't be complete without some surreal themed items too—such as these Fairy-Tale Mushrooms (below left, by Sue Cravatta on Taste of Home) and Faux Escargot (below right, by Sharon 123 on food.com)
Boil some eggs and paint them to resemble Humpty Dumpty. (You can also have your guests paint the eggs during the party as an interesting activity for everybody to be involved in). Of course, for the joke, you can always leave one of the eggs unboiled… which will be a funny (or maybe not that funy ) surprise when they want to eat it. Anyway, nobody could be disappointed - that's Humpty Dumpty who fell off the wall…

You could also create a checkerboard effect with brown and white bread squares to represent the chess game. "Garnished" with cherry tomatoes, black olives and  playing card suit party picks. Found on PartyIdeasByAPro
Sooooooo.....
Whatever you choose for your guests, it's a must to add some of these gorgeous tags that states the typical for Alice in Wonderland "Eat me!" ......
....and "Drink me!"
DRINK ME!
THE TEA (and other beverages)

What would be Alice in Wonderland without a tea party? And what would be an Alice in Wonderland birthday party without tea?! Fake, that's what. So take some of those tea assortment packs that come with 12 or more different types of tea. Bring the spirit of Alice's world by placing some gorgeous table labels to indicate the flavors of the particular teabags.
For your non-hot-tea-drinking guests, you can make an iced tea, homemade lemonade and water bottles, labeled in tricky way.
PICTURE ME!
PHOTO PROPS
I love making photos so I believe that photos are compulsory part of each party. I have had some celebrations when no proper photo was taken, so I truly regret. Moreover, there are people who don't like being caught in a picture unexpectably so could ever be found on pictures. This is shame. A great way to invite and motivate your guest being pictured and jump bravely into the spirit of the Alice themed party is to actually let them play a little part of Alice in Wonderland story. How? By setting a photo booth!
 Place some props for people to use and dress up as either the Mad Hatter (a costume hat found on Amazon), Queen of Hearts (heart crown and scepter found), White Rabbit (rabbit ears found everywhere because it was Easter time, and a toy pocket watch found at Michael's) or Cheshire Cat (giant grin drawn by yours truly onto foam board, cut out by Husband of the Year, pipe cleaner whiskers added, and stuck on a skewer stick).
Don't just put the props lying on a table. Label each prop; add a quote by the character and a small picture of you, demonstrating how to use it (and showing how much fun it is!). This last thing is the the spark that ignites the fire, honestly!
See also (click on the images to check price):

SIGN ME!
THE BIRTHDAY GUESTBOOK

Guestbook is another great way to memorize a big celebration, especially if we are talking about a 1st birthday party ever! You can go for some artwork, but it's pretty simpler to buy Alice in Wonderland book (choose between the old editions or the luxury Disney's Alice Edition) and just let your guests sign in with some short wishes. Not only this would last a lifetime and be a great keepsake, but will come a part of your kid first book library (as Alice in Wonderland is one of the ever classics of all time!)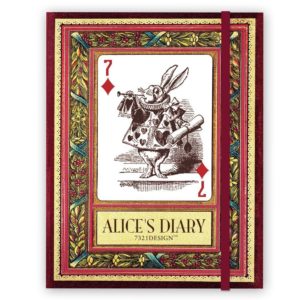 Alice in Wonderland Diary Book - vintage hardcover - check price HERE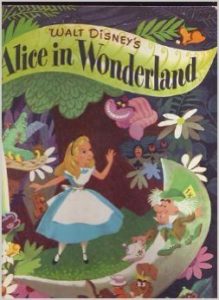 Walt Disney's Alice - Golden Book - check price HERE
BIRTHDAY PARTY FAVORS
I believe that for every kid's birthday party you should provide some favors. There are tons of small items that make great takeaways. Simply follow the Alice in Wonderland birthday party theme to set up one-of-a-kind favors for your guests to thank them and make them remember being part of your big day.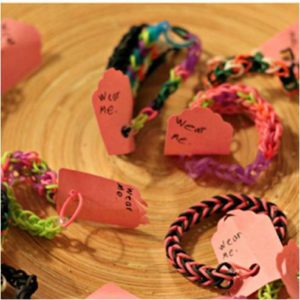 Rainbow Loom Bracelets Wear Me Tags (found on HomemadeMimi[/caption%sqe
It's always cool to have some sweet cookies as favors, althought they usually don't last. Here a cute bag to put a few cookies (one of those made with the special shapes) in:
And finally , if YOU are the one invited to an Alice in Wonderland birthday party, here are just a few gift ideas that fits the theme: (click on the images to check price)
"If I had a World of my own, everything would be nonsense." Alice in Wonderland
I know it's great fun! And I can't wait till the next Alice in Wonderland birthday party! Can you?