8 Curious Facts About Christmas- Why We Do What We Do?
I'll be happy to say "Wishing You Merry Christmas !". Soon! It is definitely my favorite celebration, usually can't wait to come!
I suggest you sit with a cup of coffee or milk, 2-3 Christmas cookies (or better more!) and take a look at these 8 curious facts about  Christmas traditions and customs. Do you know about the origins of the under-mistletoe-kiss tradition? Or why Christmas is called Xmas? Or where candy canes come from? Read here. I bet you don't know all of them. If I am not right, just let me know as a comment under the article. And something more - I greet you with one of the most special Christmas songs ever! Don't forget to listen to it!  And that's not all - I suggest you 5 more simple ways to have Christmas fun. Don't forget to check them, too!
XMAS
I always wondered why Christmas is also known as Xmas. It comes from ancient Greek language and alphabet. The "-mas" part is from the Latin-derived old- English word for Mass, while the "X" comes from the Greek letter Chi. The letter that looks like an X is the Greek letter chi / Χ (pronounced 'kye' - it rhymes with 'eye') which is the first letter of the Greek word for Christ, Christos ( Χριστός).  So Xmas actually mean Christmas, but it should also be pronounced 'Christmas' rather than 'ex-mas'!
  The Symbol of Christmas

The symbol of a fish is sometimes used by Christians - this comes from the time when the first Christians had to meet in secret, as the Romans wanted to kill them (before Emperor Constantine became a Christian). Jesus had said that he wanted to make his followers 'Fishers of Men', so people started to use that symbol.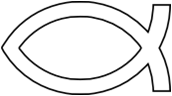 When two Christians met, one person drew half a basic fish shape (often using their foot in the dust on the ground) and the other person drew the other half of the fish.
Traditions of Christmas Bells
Bells, especially Church Bells, have traditionally been associated with Christmas for a long time. In churches that have a Bell or Bells, they are often rung to signal the start of a service, especially the first service on Christmas Eve. In the Catholic Church, Christmas is the only time that Mass is allowed to be held at Midnight. This is because it was believed that Jesus was born at midnight (although there has never been any proof of this)! A lot of churches have midnight services on Christmas Eve, although not every church will have a mass or communion as part of the service.
  Christmas Candy Canes
The Christmas Candy Cane originated in Germany about 250 years ago. They started as straight white sugar sticks.
A story says that in 1670 a choirmaster at Cologne Cathedral wished to remedy the noise caused by the children in his church during the long Christmas nativity service of ChristmasEve. So he asked a local candy maker for some sweet sticks which he gave to the children in order to keep them quiet. As he wanted to remind them of Christmas, the sticks were made into a 'J' shaped like a shepherd's crook, to remind them of the shepherds that visited the baby Jesus at the first Christmas.
Another Christian meaning of the shape is that 'J'-shape is for Jesus, the white color of the cane can represent the purity of Jesus Christ and the red stripes are for the blood he shed when he died on the cross. The peppermint flavor can represent the hyssop plant that was used for purifying in the Bible. However, this is only a folklore the earliest records of 'candy canes' come from over 200 years later, so the story, although rather nice, probably isn't true! Sometimes other Christian meanings are giving to the parts of the canes.
The History of Christmas Cards
The traditional greeting says, "wishing you a Merry Christmas and a Happy New Year". The custom of sending Christmas cards was started in the UK in 1843 (1st May) by Sir Henry Cole. He was a government worker who was very interested in the new 'Public Post Office' and wondered how it could be used more by ordinary people.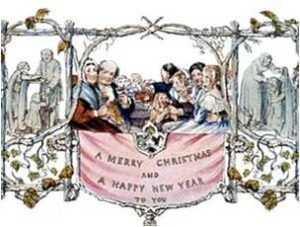 Sir Henry had the idea of Christmas Cards with his friend John Horsley, who was an artist and actually made the illustrations. They designed together the first card and sold them for 1 shilling each, which equals approximately 5-7 penny, but in those days, it was worth much more. The card had three panels. The outer two panels showed people caring for the poor. The central picture showed three generations of a family having a large Christmas dinner and raising a toast to the card's recipient. About 2000 cards were printed and sold that year. They are now very rare and cost thousands of Pounds or Dollars to buy recently.
At Christmas 1873, the lithograph company Prang and Mayer began creating greeting cards for the popular market in England. The firm began selling cards in America in 1874, thus becoming the first printer to offer cards in America. Its owner, Louis Prang, is sometimes called the "father of the American Christmas card."

The Tradition of Mistletoe  
Mistletoe is a plant that grows on willow and apple trees. It is also relevant to several cultures which make it so special. It is associated with Western Christmas as a decoration, under which lovers are expected to kiss. The tradition of hanging it in the house goes back to the times of the ancient Druids. It is supposed to possess mystical powers which bring good luck to the household and beats off all evil spirits. It was also used as a sign of love and friendship in Norse mythology. The custom of kissing under Mistletoe comes from England. The original custom was that a berry was picked from the sprig of Mistletoe before the person could be kissed and when all the berries had gone, there could be no more kissing!
The name mistletoe comes from two Anglo-Saxon words 'Mistel' (which means dung) and 'tan' (which means) twig or stick! So you could translate Mistletoe as …..well, try to be creative.
The History of Christmas Trees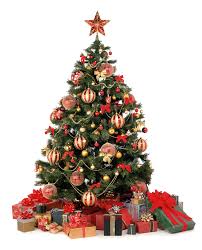 A Christmas tree is a decorated tree, usually an evergreen conifer such as spruce, pine, or fir associated with the celebration of X-mas. The evergreen fir tree has traditionally been used to celebrate winter festivals (pagan and Christian) for thousands of years. Pagans used branches of it to decorate their homes during the winter solstice, as it made them think of the spring to come. Christians use it as a sign of everlasting life with God.
Nobody is really sure when and IF fir trees were first used as Christmas trees. It probably began about 1000 years ago in Northern Europe.
The custom was developed in early modern Germany (where it is today called Weihnachtsbaum or Christbaum or "Tannenbaum") with predecessors that can be traced to the 16th and possibly 15th century, in which devout Christians brought decorated trees into their homes. It acquired popularity beyond Germany during the second half of the 19th century, at first among the upper classes.
The tree was traditionally decorated with apples, nuts, corn or other foods. In the 18th century, it began to be illuminated by candles. An angel or Christmas star might be placed at the top of the tree to represent the archangel Gabriel or the Star of Bethlehem from the Nativity.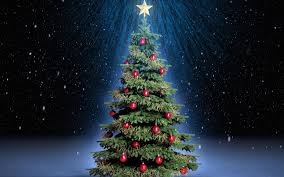 Have an eye on the Christmas tree of the All I Want For Christmas songstress Mariah Carey. Or how big is the Alessandra Ambrosio's Christmas tree. Or how looks "the perfect tree" for Heidi Klum. Or how happy is the pop sensation Taylor Swift with her tree choice as shown on Instagram.
 Christmas Gifts 
One of the main reasons we have the custom of giving and receiving presents at Christmas is to remind us of the presents given to Jesus by the Wise Men: Frankincense, Gold, and Myrrh.
Frankincense was a perfume used in Jewish worship and it showed that people would worship Jesus; it also wards off the evil.
Gold was associated with Kings and Christians believe that Jesus is the King of Kings.
Myrrh was a perfume that was put on dead bodies to make them smell nice and, as a gift, it showed that Jesus would suffer and die.
Christmas itself is really about a big present that God gave the world about 2000 years ago - Jesus! As it is said in the Holly Bible (John 3:16) 'God loved the world so much, that he gave his one and only Son, so that whoever believes in him may not be lost but have eternal life'.
"Christmas Gift" is an expression traced back to 1844 in the southern United States (and also in southern Pennsylvania, Ohio Valley, West Virginia, and later in northeastern Texas) in the poor rural areas. It is derived from the tradition of waking up early on Christmas morning and rushing to say "Christmas Gift" to someone before anyone else. The person being told "Christmas Gift!" is expected to present the person saying it to him with a present. So "Christmas Gift" was an equivalent expression to "Merry Christmas".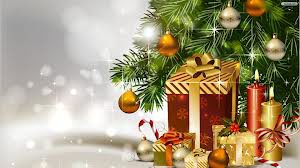 All over the world, families and friends give presents to each other. Most children around the world believe in a Christmas gift bringer. It's often St. Nicholas, Santa Claus or Father Christmas, but in Germany they believe that it is the Christkind, in Spain they believe it is the Wise Men and in Italy, they believe it is an old lady called Befana.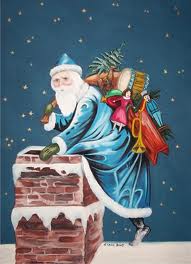 The presents are also left in different places- in shoes or boots, in stockings left hanging by a fireplace, or left under the ChristmasTree. They are often opened on Christmas day morning with all the family together, but there are many different days to open Christmas presents around the world.
Christmas Briefly
Gift-giving is so common at Christmas time. It usually begins from Thanksgiving time. Everybody searches for the best gift. Gifts are given to children, members of the family and close friends, or fellows who have done favors, or colleges, or employers, or employees. But gifts and money are also given to poor and unprivileged people, to hospitals or orphanages or funds. Christmas is exactly the time when most Americans show great generosity to other less fortunate people. Some people bake cookies or make candies or other special food treats for friends and neighbors. Many businesses give their workers a Christmas "bonus" (extra money) to show appreciation for their work. Most Americans send greeting cards to their friends and family exactly at this time of the year.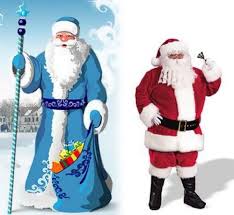 The decorating is a very special tradition, too. Most of the Americans have Christmas tree in their homes - a real evergreen tree (which is more common) or an artificial one. In either way, the tree is decorated with small lights and ornaments. A lot of lights and wreaths of evergreen and signs wishing a "Merry Christmas" can be found inside and outside of many homes.
As a whole – Christmas is a really really special celebration of love, peace, blessing, caring and hope for the coming goodness. It is a significant family holiday that brings people together and a lot of warm in each other's hearts. Enjoy it as much as you can!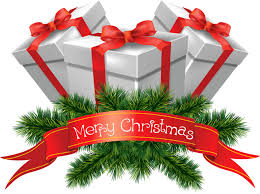 Choose these lovely Christmas greeting cards