Worst Christmas Gifts 2015 – Be Thankful for Not Having These…
Have you ever received something that could be qualified as one of the worst Christmas gifts?
Who doesn't love receiving gifts on Christmas? We're all curious what Santa will bring us. We are all expecting the next present what will make us happy. Obviously, these 20 people  aren't happy with their gifts. No wonder… just look at the worst Christmas gifts I've seen so far this holiday!
1. Stationary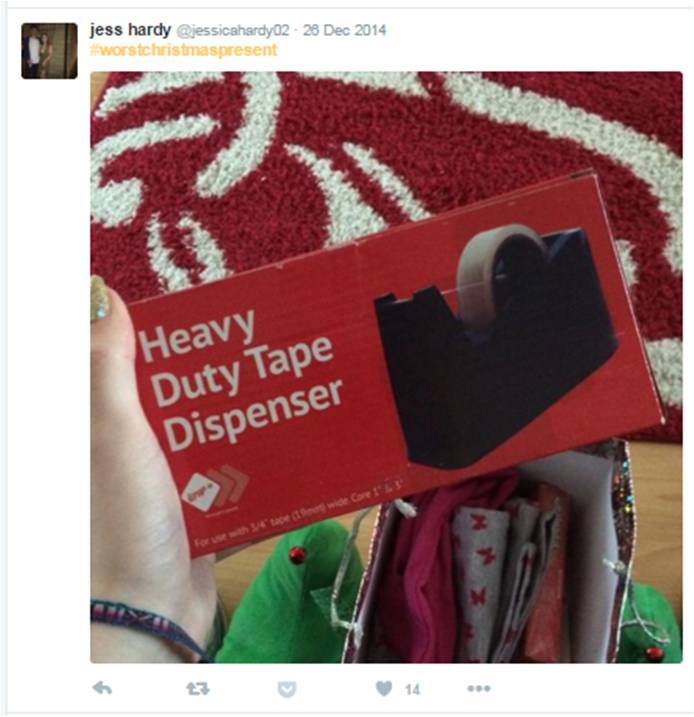 It's really bad idea to make any stationary a Christmas (or any other occasion) gift.
2. Saying Someone Not Being in Shape
Any gifts that say "stay fit" or"lose weight" are extremely inappropriate, especially for ladies.
3. For Someone, This Could Be Cool ….(not for me)
Hmm, I have mixed feelings about this. It must be a stage of Siblings' Wars.
4. Too Much of Cosmetics
Being gifted with a  deodorant is bad taste. But having a whole box – well, this is crazy.
5. When Mamma's Trying To Be Cool
Oh, Mom, what you've been thinking about?!?
6. Christmas Candies with Some Christmas Extras – Cool Parents Again
Christmas would never be the same again.
7. Uhhh…No, Thanks!
Poor try for someone to be cool with this uncommon gift.
8. Mommy's Always a Winner in The Worst Christmas Gifts Contest
I admit – I can never think of a more silly gift.
9. Who Can Live Without This?
Dishwashing liquid? Come on…..
10. Granny's Always Giving Her Best
11. Too Genuine To Be True
12. When 'Uncommon' is Not Equal To 'Cool'
13. Misunderstood …
14. Great Bargain
Leaving price tags is not polite. Especially when telling us how a great bargain our gift was…
15.  Some Fake Luxury Goods – Mulberry, Burberry…who would notice?
16.  Odours
As these neighbors were trying to say "We'll never come again unless you start using this in your house". Well, I won't since it's keeping such neighbors away…
17. Toiletries
Toothpaste, razors, deodorants, bars of soap and other toiletries make such awful gifts.
18. Fail. Big fail!
Clearly not understandable (except for the gift giver having some leftovers….)
19. When You HaveTangible Evidence That You've Been Regifted
Someone must read tips for re-gifting, seriously!
20. This Priceless Gift of…NOTHING
Okay, this is really  too far…even as a gag gift.
After checking these, I can bravely consider myself as a happy person, who received gifts  that make me happy.
What about you? What was your worst Christmas gift this season?