Wedding Planning Timeline – Freebie Time!
 Okay, he proposed you and you are on the cloud nine! The simple word "Yes" simply opens a whole new world – the wedding planning timeline world! And BELIEVE ME, I KNOW planning a wedding is difficult and time-consuming!
Wedding Planning Timeline – Do We Really Need This Stuff? 
I remember when my husband made the proposal –it was like yesterday, on 1st August 2011 on a boat in Paris. It was one of the most happiest moments in my life since I wasn't expecting it at all. We together made a decision to make a wedding party the coming year 2012. And…when came back from the traveling, we continued working, doing all the everyday stuff. And thinking – oh, yeah, there's plenty enough time to start with the planning.  We were only certain about one thing – we are getting married in the summer, no matter what happen. And what about a wedding planning timeline – should I really need that?
So the time was approaching and nothing specific was decided, until early December 2011. Then, I woke up one morning and thought "My wedding is coming! What should I do first? I don't want to wait until later! There are so many things to handle with! How should I put it all together?"
So in order not to get mad with the preparations and to simplify the process, I've created on my own a simple wedding planning timeline, which I've tried to stick to. It worked perfectly to me! That's why I want to spread it with you, dear future newlyweds!

Well, my husband and I have managed to do all the big and little tasks in 9 months and most importantly – without any fuss and stress. We just had plenty of time to relax and enjoy each other and the wedding planning.
Just follow along with the tasks each of the 9 months and you'll avoid the stressful mad rush at the end – just like we did!
Simply Download the guide here and find all the detailed things to do each month.
Why 9 months?
Because 9 months is time just enough for a baby to be born and a nice full of great memories wedding to be planned and organized.
Since every wedding is quite different, I would firstly recommend reading through the entire wedding timeline checklist first (and making edits and notes as you go) – see what you've already done, or find any specific tasks that you might have missed (the nightmare for every bride-to-be!).
In the wedding planning timeline you will find all the essential information on a perfect wedding checklist schedule PLUS a handy information on what to bring with you on the wedding day.
Happy Planning!
 And if still wondering whether to DOWNLOAD THE WEDDING PLANNING TIMELINE (although honestly I can't come up with a sensible reason since the wedding planning timeline is ABSOLUTELY FREE), I will share with you, dear future brides, my experience and the main and most significant things about our wedding (the way it happened generally):
– we got married at the council 3 days before the wedding reception;
– on the big day, we married in the church and had a great party with family and friends;
– we hired photographer, video-operator,  DJ (who met us with a great lаdy who ran the ceremony);
– the wedding venue was a restaurant in the city (in order to be really comfortable for all the guests to attend since the wedding was on Sunday and we have old relatives)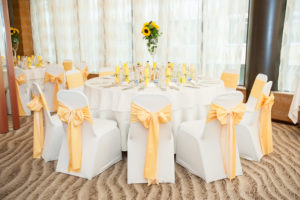 – the ceremony was held in a reception room just next to the restaurant;
– we hired florist agency for the whole decoration, bouquets, boutonnieres – as you can see, with my favorite flowers
– I came up with the invitations design, and my florist made them. There were 3 kinds of invitations – for our parents, maid of honor and best man (all hand written individually with different messages by me) and for all the guests;
– I myself came up with the idea for the small favors for the guests and different ones for the closest relatives (parents, grandparents, sisters).
It was partly a DIY project since I've purchased the essential part and then assigned the gifts (with individual handwritten personal messages);
– I made myself the place cards and table numbers
– I made myself the sitting schedule and help the florist agency prepare the tables arranged with the gifts and cards;
– We had a special first dance (although we danced it after midnight… but that's another story) and took 3 or 4 lessons with professional dancers – sensual Rumba + passionate Tango.
– I had made-to-measure tailored dress and a veil; I bought the shoes from a local store
– I went to a hairdresser
– we bought the wedding rings from a local store
– we had a 3-floor- wedding cake with a cute topper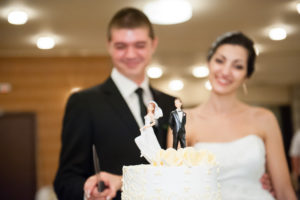 – we were apprx 100 people altogether.
How the wedding planning timeline started?
One night we (my husband and I) just started discussing the dates. We didn't have any specific date to follow, so we looked at the calendar. Since we wanted to make a great party with our relatives and friends, we were looking for the possible Saturdays or Sundays in August or latest the 1st half of September (when the weather is still friendly).  Choosing a proper place wasn't easy at all – we wanted to be easy accessible for all the guests (espcially old ones) and comfortable enough. The wedding wasn't outdoor at all (except for the wedding photo session), but looking back at time, I can say honestly that we love our wedding day, we have happy memories, all the guests successfully came and we did together great party until 3 a.m.
Again: we've managed to organize the wedding in just 9 months, so if you want to know how we did it, just download the wedding planning timeline infographic and hope it will be useful to you too.  Happy planning!
p.s. I thank to all the people involved in our wedding planning who helped us out, no matter if mentioned here or not. The reason to post all these pictures is not to show-off or to have some benefits from the vendors. I only wanted to assure you that I am a real person who had a real and great wedding. And my wedding planning timeline as shown here was of a really big assistance to me. Anyway, at that time, if I had any idea about so useful Step-by-Step Guides on the market such as Wedding Savings Revealed! or a wedding planner book , I would have been happy to own a great collection of tips, checklists, valuable information about pricing and negotiating – everything in just one set.

If you want to share with us your happy moments, don't hesitate to contact me – it will be honor to us!  Or maybe you have better ideas on the wedding planning timeline?