The Toy Box – An Increadibly Useful Baby Gift
The toy box baby gift - there's always what to be filled with. I mean - ALWAYS! No matter toys actually, or any other stuff (which is getting more and more as the baby gets older...).  This makes it pretty useful and necessary gift for any baby shower,  newborn, even the 1st birthday party. The kid will love it for the colors, funny design and the priviledge to choose alone which toys to play with. The parents will adore it for the way toys disappear from all around in just some minutes. And if that's not enough...
I don't know what could be....
In several articles I will reveal you my top 10 and not very common baby gifts. Although the toy box is definitely unusual gift, it deserves its place in the top. So why don't you go for a present that doesn't revolve around newborn this time? Why? As an experienced mom of a toddler, I promise that the toy box will be appreciated by both parents and children. Here you can find my reasons and suggestions for one of the 10 best ever baby gifts - the toy box.     
# 10 Toy Storage  Trunk / Box
For any family with young children, it is hard to keep the clutter down and organization up. What is the perfect solution? A storage toy trunk! There are mainly 4 options to choose from- Cardboard Toy Storage Box, Soft Canvas Material Collapsible Storage Trunk,  Wooden/Plastic Toy Chest and a  Cushion Top Toy Storage Organizer. 
As a whole, the big plus with the collapsible toy storage trunks is that they are lightweigh and easy to fold down when not in use (even then, they are easy to be tucked away in the basement). With the beautiful designs,  vivid and appealing colors , they fit to any baby room decoration. The reason to put these trunks in the top rated baby shower gift ideas is that they really hold soooo much stuff - toys, clothes, accessories, books, games. Moreover, they have (or at least most of the brands) 2 wholes on each side for airing the box.
It's cool that you can purchase the toy box at awsome prices (which is a pure bargain for how big it is!). Take 2-3 of them, or buy just one and use it as a gift wrapping box (put birthday presents for your or others kid so it can be reused for toys instead of throwing the wrapping paper anyway)!
And one more thing - these collapsible toy storage trunks are sort of child-friendly as there are no acute angles and sharp edges, which protect the children from any harm.  The reason to choose soft lid is that your baby wouldn't smash fingers at all. Just mind that these are not for climbing, sitting or jumping on (they are storge boxes anyway) for sure.
I personally received on my baby shower a couple of cardboard trunks in mild green with The Snow White theme which suited perfectly the whole decoration and coloring of my daughter's baby room (I used green and yellow).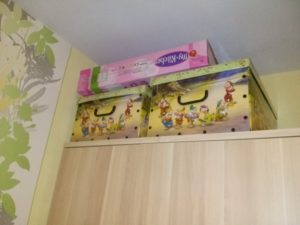 When I assembled the boxes (they come folded with plastic bolts and handles, but are easy to assemble all the parts) I was gladly surprized that are much bigger than I expected. I use them as "dress up" trunks to store all the clothing that don't fit anymore. I've managed to collect in just one of the trunks all the clothes plus assessories (hats, socks, bibs, sleeping bags)  from the very first days up to 9 months. Which makes a great ammount of clothes. I mean - A LOT!  I store them now onto the wardrobe where contribute to the overall look of my baby room. 
Anyway, be careful when lifting the trunks as the fabric material (which is doubled sturdy cardboard) could tear slightly at the handles.
After the two boxes were filled, I bought 2 soft canvas toy storage boxes with velcro top. These I use for toys only. My daughter (2years) drag the toy box around and opens easy to collect all the stuff. There's something motivational for her to open alone this colorful box and serve herself (alone). Which is a bonus for me. :)
Here you can see many different brands and designs - simply click on images to check prices and dimensions.
If you are sure that the baby room has enough space (I mean if you are searching for a gift), you can definitely choose the wooden (or plastic) book & toy organizer. First, it will last longer (the sides are made of wood and the bins are this soft canvas I mentioned above). Second - it has a lot of "drawers" to organize small and big stuffed toys, books, puzzels -games of all kinds (usually features nine fabric storage bins). Third, could be "upgraded" for other purposes as the child grows up - to store notebooks, textbooks, stationary, or just clothes and accessories (will be perfect for  underwear, sunglasses, hairpins for the girls, etc. - you get the idea, right?).
I ordered now a storage box with a cushion top for the baby room. It's actually a box, that could be filled with whatever you think of (and recently I think of toys as they are capturing the home space, day after day). The big advantage here is that the toddler (and any kid - it's steady enough to hold even me) can sit on it. I have one simple (not with funny childish design) in my living room to store old magazines. And my daughter use it as a chair to sit when watching TV or drawing at the table. It's pretty useful and definitely looks like a piece of furniture. It is not large, but will do just fine to store all the Duplo pieces and other small items in one place (different from under the sofa!). Which makes it a great baby shower gift - especially if you buy a pair. "The durable lid fits securely on the base and features a padded top that turns this functional organizer into a convenient bench or ottoman." This is said by the manufacturer and I trust. Can't wait for my purchase.
For any family that has a reasonable amount (which always means TONS) of toys, I am convinced the toy trunk is a perfect addition to their home. As a conclusion - the price is affordable and the item is adorable, no matter which option you'll head to.
p.s. Oh, I forgot to mention something. I choose all these options because they're very easy for any kid to access. My daughter (and any other toddler) can easily open the toy box, grab her books and toys, and put them right back. She can easily pull the fabric bins and baskets out and slide them back in. All the toys could be separated into certain groups - one for the bigger stuffed toys; one for electronic and music toys and games; one for Duplo and other blocks and puzzles. And another for books. Great toy storage solution! 
Some suggestions
Related posts to Baby Gifts
[tweetthis display_mode="box"]"Sometimes the smallest things take up the most room in your heart" Winnie The Pooh[/tweetthis]