Thank You for Being a Friend

Thank You for Being a Friend – that's what I needed to say today, after having a nice coffee afternoon with my friends, exchanging heart-warming gifts and promises for the new 2015 year. But that was not all – we spent 4 hours in chatting about the last 2014 year, remembering how hard it was for every one of us, but still having some nice experience and good memories about the time spent together. We did also make plans for the future together, for the summer, for the next NewYearEve, wishing all the best for all of us.

Thank you for being my friend- that I was thinking while saying "good-bye" to another friend who moves to live in other country. I will miss her, although there are thousands of ways to communicate these days (fortunately!). This made me think of great friends nowadays. Do you have such a treasure?
Friends will come in and leave our every-day-life. There are friends who we talk everyday with, who live miles away, who we work with, who we see once in a month, etc. Just different types. But more important than how long a friendship lasts and how often you go out together, is that a good friend will love you for who you are, no matter the distance between you, no matter the age gap, no matter the status, no matter the lack of free time. And more important than the things you talk about and the frequency of your meetings, are the actions you take to one another –big or small – they show you care about your friendship.
Friendship is an interesting kind of love. There's no contract binding you together, there's no rule about loving each other unconditionally. It's the pure love and willing to put in to the relationship.
I love my friends. They are invaluable. It's precious to have a strong back support and a person to criticize you honestly. At the same time it's always pleasure to chat in the middle of the night with a friend or spending hours on the coffeshop or the shopping spree. Even when you're angry with the entire world, there's always one person who gets spared and endures your bad mood. And that's your (best) friend!  Friends love you for all your high or low spirits, all your personality and even your weird obsessions and wacky behaviors.
Actually the better friend relationships you have, the more likely you are to be happy. Therefore to be a great friend to someone makes you happier so as to have a group of good friends supporting you.
To me, the good, really good friend:
loves you for who you are
is trustworthy and showing loyalty
is kind to you and respects you and your feelings and your attitude and your points of view
tells you the truth – even when this is a hard task in a hard situation
is happy when you are happy; will cry when you cry; will listen when you are ready to talk
sticks around when things get tough
is someone you can trust and who won't judge you
is ready to forgive you
is someone whose company you enjoy makes you smile
is thoughtful when making gift – always thinking of what you would like, what will make you smile, what is your favorite stuff.
won't let you down, deliberately hurt your feelings or betray
supports you no matter what.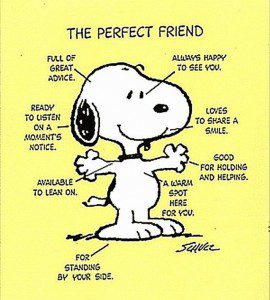 There are plenty of ways to say thank you. But when talking about close friends, I can afford a little bit more effort to find a small gift that says everything I want to say- thank you for being a friend gifts
. The pickups should be not engaging at all, costs no more than $ 15 and suits almost every personality and taste – like the followings:

If you want to do all or many of the things listed above for someone you care about, you're already a good friend. But as I said before, the actions matter, not the words, or the intensions. So don't take for granted the friendship.

As any other valuable thing in this world, the friendship also needs efforts to grow strong and sustainable to the time and the life's predicaments.
Maybe it sounds hard, but actually it is really easy to be a good friend. How? Just let me tell you how to be a good friend.