St.Patrick's Day Sayings – Irish Wisdom & Sense of Humor
St.Patrick's Day is just here and it is always fun to make your own St.Patrick's Day DIY cards with jokes and sayings. What you can use are some traditional St.Patrick's Day Sayings and Irish jokes to include and write on small pieces of paper.
Here are you can find a few St.Patrick's Day Irish jokes and sayings and quotes to use in your DIY projects for tomorrow. They have all been used for so long that they are not even attributable to anyone.
Traditional St.Patrick's Day Sayings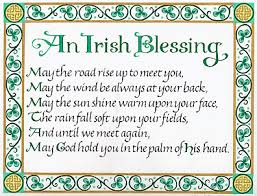 Blessing # 1
May your troubles be less

And your blessings be more.

And nothing but happiness

Come through your door.
Blessing # 2
May the road rise to meet you:

May the wind be always at your back,

The sun shine warm upon your face,

The rain fall soft upon your fields,

And until we meet again

May God hold you in the hollow of his hand.
Blessing # 3
May luck be our companion,

May friends stand by our side,

May history remind us all

Of Ireland's faith and pride.
Blessing # 4
"Leprechauns, castles, good luck and laughter;

Lullabies, dreams and love ever after.

Poems and songs with pipes and drums;

A thousand welcomes when anyone comes…"
 Funny St.Patrick's Day Sayings
Joke #1
May those who love us love us.

And those that don't love us,

May God turn their hearts.

And if He doesn't turn their hearts,

May he turn their ankles,

So we'll know them by their limping.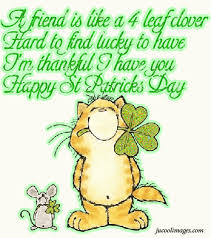 Joke # 2
Here's to you and here's to me

I pray that friends we'll always be,

But if by chance we disagree,

The heck with you and here's to me!
St.Patrick's Day Sayings – Irish Wisdom & Sense of Humor
# 1 "A good laugh and a long sleep are the best cures in the doctor's book." – Irish saying
# 2 "Anyone acquainted with Ireland knows that the morning of St. Patrick's Day consists of the night of the 17th of March flavored strongly with the morning of the 18th." – Unknown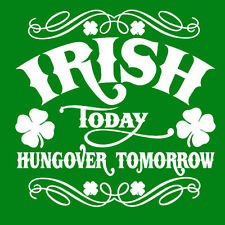 # 3 "St. Patrick's Day is an enchanted time — a day to begin transforming winter's dreams into summer's magic." – Adrienne Cook
# 4 "You've got to do your own growing, no matter how tall your grandfather was." – Irish Saying
# 5 "Only Irish coffee provides in a single glass all four essential food groups: alcohol, caffeine, sugar, and fat." – Alex Levine
# 6 "The most beautiful music of all is the music of what happens." – Irish Saying

# 7 "An Irishman is never drunk as long as he can hold onto one blade of grass to keep from falling off the earth." – Irish Saying
So How to Use These St.Patrick's Day Sayings?
Idea #1 In A Jar o' Luck
Use a large vase or clear jar. Write various of the St.Patrick's Day sayings and lucks on small pieces of green and white paper. Put a layer of rainbow -colored jally beans and then put the folded pieces of paper.  Let anyone have one or more each time you serve a meal or at each meal have someone take out and read one joke.
Idea #2  Saint Patrick's Day Fortune Cookies
You can send a dozen of hand-decorated fortune cookies in a lovely decorated cookies box . These cookies themselves could be also decorated with green shamrocks, and faces of the leprechauns or any other green decoration. In addition, a message of good fortune or a funny joke or St.Partick's day sayings can be found inside each cookie. You can send these charming cookies or serve them to your guests and bring some luck o' Irish to your friends.
How to make these St.Prick's day cookies? Easy – you only need (generally) flour, sugar, butter, eggs, some decoration. Here is how to make fortune cookies:
It's not that difficult as it seems. But if you need some help with the hardest work (the folding), go and see this smart kitchen "gadget" Fortune Cookie Maker. It works quite easy and quickly (and is a great fun for kids too):
Don't forget to personalize your Irish card. You may try to say why St. Patrick's Day is important to you. Even if you have no Irish roots at all, that doesn't mean St.Patrick's Day celebrations are non sense.
Add a little bit of green color or shamrocks for good luck and you will have a DIY homemade St. Patrick's Day card which is absolutely perfect for anyone. The good thing about these St.Patrick's Day sayings is that you can always use them for other DIY projects for celebrations and occasions (wishing luck for birthdays, anniversaries, wedding receptions…. many options).
Wishing you the luck of an Irish 🙂