Some Cool Kitchen Gadgets You Want To Have (for yourself!)
 As a real Taurus, I am a foodie person who simply adore cooking, eating (of course ) and using handy cool kitchen gadgets that helps the cooking go smooth and easy.
From among all different kinds of cool kitchen gadgets – some silly, others really handy – I picked up those who appeared recently on the market and made a huge impression with theirs innovative design and effectiveness. Get ready for some fresh breeze in the kitchen! Let's see which new cool kitchen gadgets to buy for yourself only:
A self-heating butter knife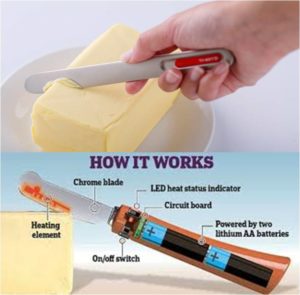 I use a lot of butter, since my 2-year old daughter favorite breakfast is a simple toast with butter. Sometimes I left the butter bar over the heated coffee maker machine hoping to let it soften a bit quicker. SpreadTHAT is the answer to my annoying household problem – the hardened butter just taken out of the refrigerator. This knife is the first self-warming butter knife to work without electricity, nor batteries. If wonder how it's working, I will tell you – it's not a miracle. It's made from titanium to transmit heat from your hand to the blade of the knife, making spreading hard butter a breeze. If your hand is not warm enough, you can put the knife in a hot water for a second or 2 and use again. Let's jump to the toasts!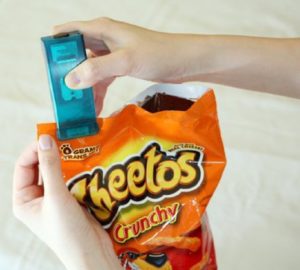 I just love it! It's simple to use (just slide across the opened bag to seal it again); easy to store (it has a magnetic back so I keep it handy on my refrigirator and there's no need to hunt for it when I need it); saves both food and money (it's actually pretty cool bargain, so don't miss it!). The re-sealer is working with heating technique so you'll need 2 AA-sized batteries (which are not included when purchasing so buy them). It keeps the stuff in that should stay in – fresh as was never been opened – potato chip bags, cereal bags, sugar, salt, bread mix bags, cookies, spices and many more. 
Auto Measure Spice Dispenser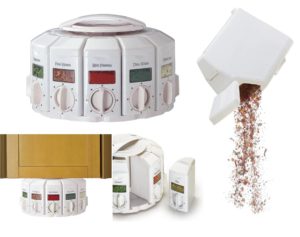 It's worth trowing out my old-fashioned mini jars and buy this cool kitchen gadget to store all my spices. I am a huge fan of spices so imagine how great quantity of jars I have in the kitchen. And all the space for them. The bad thing is that they (both space and jars) are always not enough, so I need to re-seal or fold the opened bags. The idea to have such a spice storage makes me feel happy. This Professional Spice Rack has it all-  includes 12 spice canisters, a uniquely patented auto-measure dial (automatically measures a 1/4 teaspoon with the click of a button), rotates easily, allows me to shake and pour the exact quality I need and want for my super tasty dish. The price is extremely satisfying for the quality and is definately a must for moms! "Super handy for 1-handed cooking" as a satifyed customer states. Even if you are not a fan of plastic stuff and think that the sealing won't be so good (that's always the risk when using plastic), then you can trust on the Stainless Steel Satin version which look reallly reallly nice. (and it's not that much expensive).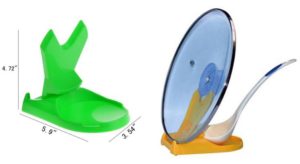 To every housewife may have happened during cooking to wonder exactly where to put the large lid of a pot or stirring spoon. The problem becomes even more serious if the kitchen space is limited. This small folding kitchen gadget provides a solution to the daily situation – setting the lid on the counter and getting the counter all messy. Surely keep even huge cover has a setting for a spoon. The stand is easy to wash and after use, can be folded. Small, handy, cheap,useful- the greatest combination!
Onion Goggles  

(what the ?!-#?#!)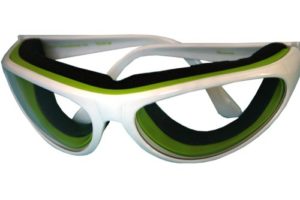 < My husband,  back from work, seeing tears pouring down my face (horrified):

-Oh, honey, what happened?!

Me, hardly seeing him through the fog in front of my eyes:

-Nothing, sweetheart, just cutting some onion…>
 Wow, probably right now you are loudly laughing at me! 🙂 And yes, you are right – 1st if you don't know what is to suffer from onion sensitivity, and 2nd – if you've never seen before these onion goggles! At first time I saw them I thought – what a ridiculous gadget (if it should be called gadget at all)! Being honest, I've always had problems with cooking onion (I love it in meals…). First – it's the smell that lefts on my fingers. It lasts for days although using the lemon techniques, the aroma soaps and other cosmetic liquids. Then comes the solution – I simply use gloves (how classical!). The second problem – my eyes bothered me so much whenever I start chopping. And it's not only the tears – my nose start reacting as well (which is not very sexy, you know…) Yes, I am one of the people more sensitive to the tear causing agents in the onion (opposite to my husband who tears up very rarely). And if I forget to remove my eye-mascara before cutting onions/shallots – then imagine how a ridiculous picture in the kitchen I am! It has always been a painful experience, one that I can't avoid since I am an avid cook and I do a lot of cooking for my family. So read carefully – these onion goggles really WORK! Forget the tears! (If you don't think 20 bucks is worth a pain-free onion chopping experience, then you're not really that sensitive…)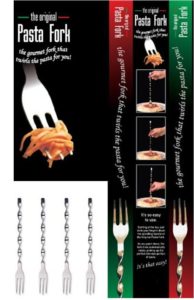 I simply adore Italian food. Amongst all kinds of pasta, my family (me specially) prefer spaghetti. As a real pasta fan, I can't say it's hard for me to use ordinary forks. (although we've never had a pasta dinner without any trouble or mess….). My husband is getting better each time. But kids may have difficulties eating spaghetti ALONE. Plus I have some bounderies cooking spaghetti for guests (since I haven't seen any graceful and efficient way to eat those delicious strands..) .
Now the first main advantage – perfect for the kids! These forks are a playful way of winding up spaghetti or noodles with a minimum of frustration and a maximum of fun. Everyone knows what a messy fight feeding children can sometimes be. These attractive, smart-designed, easy-to-use utensils will encourage and entertain the kids. The second main advantage – they looks so elegant and chic, that are perfect for serving spaghetti to all kind of guests and show off with your lovely pasta meal. They comes 4 in a set, good weight, nice stainless material just like a good piece of silverware and packed in a nice 'presentation case'. The pasta fork works just like shown in the presentation video for how to use spaghetti-pasta-noodle fork and pulls out the perfect twisted noodle in one try! MMM, it makes me hungry ….
Just  to mention- the pasta-fork-set is a perfect gift for any kind of celebration, morever if the people are pasta fans. You can engarve names on the top of the handles so note down this great idea for a Christmas gift this coming season.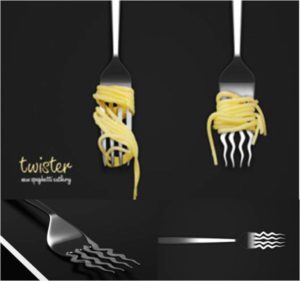 And now let me present you another great spaghetti-friendly fork design – Twister! by Damjan Stankovic. You can see this gorgeous and pretty useful design on Relogik.com. I really want to have them cause I think that these are even better. But shamely, I think they are not produced yet. Or at least I have no idea where to find and buy. But if you do, please let me know! And please – share with other people! 
I am struggling –  trying to stop myself from buying new cool kitchen gadgets, trying to resist. But they are so cool because provide solutions to some small everyday-problems. And I know – these solutions are just fashionable and substitutional, but I love them for the simplicity and saving of time, efforts and money.  Maybe next time I will resist, but not this time….
Which one of these cool kitchen gadgets did you like most?