Prynt Case | The New Living Pictures Gadget You'll Love
Not Just Paper Images, But Living Moments - That's the Shortest Description for the Prynt Case.
** This following post contains some affiliate links. Despite that, the written in here is honest and based on my own opinion or/and experience, research and wish to share my findings with you!
Since the day my daughter was born, I almost forgot about my Canon. I switched to phone pictures (except for the very special occasions). And I am very pleased with this because all the phone camera functionalities and available apps let me take adorable pictures (and edit those that are not that adorable). And videos, too. Printing videos was a dream to me because I am a big fan of the printed memories. So now I am really excited that the Prynt Case is here, for printing videos (that's right – videos!). It's like sorcery from the Harry Potter's world! (remember the "interactive" newspaper?)
** This following post contains some affiliate links. Despite that, the written in here is honest and based on my own opinion or/and experience, research and wish to share my findings with you!
The First Impression
The very first time I saw a photo that "comes to life" I was completely blown away. I thought: It's amazing! I must have it!  My husband felt the same way. You know, buying the Prynt gadget is not one of those ideas that arise and then you forget about. This is not one of the novelties that would wear off fast, I believe. It is one of those gadgets that I feel like researching about because the idea behind is so magical and abstract that sounds almost not real to me!
I've made my research and now I want to share with you what I've come up with and why I think this is one of the most amazing new gadgets released these days. And why I am buying it. And why you should also buy it if you are fond of the idea of printing videos. And why this device is just great for a gift to every high-tech lover in your life.
What Exactly The Prynt Case Is?
Generally, the Prynt Case is a ZINK paper-based printer accessory that connects to smartphones and uses "augmented reality" through an Android app to overlay videos on top of the printed photos. Which means you get a Prynt Case, connect it with your phone, install the Prynt App and you have the magic in your hands. In other words - you can now bring your photos to life by "unlocking" a short video clip!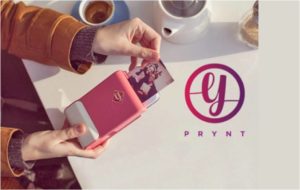 Prynt Case project was originally launched on Kickstarter last year (2015). There was a huge interest in it so it was quickly funded, even 3 times more than its $50,000 goal. Kickstarter backers (more than 9000) started receiving their Prynt Cases last year and Prynt Corp. is now selling this smart printing device, gaining more and more fans worldwide.
How Does the Prynt Case Video Printing Work?
We take a picture with Prynt and record a short 5-second video. The app actually embeds this video clip in the picture (using it as a captured image). Then the app somehow "scan" the image, letting us make photo edits, adding text, different stamps, and doodles. Funny, ah?  The video stays "hidden" in the picture until unlocked with the special Prynt App. Printing the finished photo on ZINK paper may take up to 50 seconds according to experienced users. But it worth every single second. I love that the ZINK photos have a sticky adhesive on the back – this lets you stick them anywhere you want.
The Prynt Case is working with:
- the iPhone 5/5S/5C/6/6S and Samsung Galaxy S4/S5 (whenever you switch your phone to any of the supported devices, you should buy a different $19 (or less) adapter )
- a micro-USB cord
- a pack of 10-sheets ZINK (zero-ink printing technology) paper
- a battery which lasts for up to 20 prints (which means two packs of ZINK paper).
There's one thing about the fancy gadgets that usually teases me.  It's the moment I realize I should spend even more money for something additional before I even started using the gadget. As if to please buyers like me, The Prynt Corp. added a free pack of 10-sheets ZINK paper in the box. Smart decision, right? It's true that the amount is quite not enough, but as a starter, it's just okay. Nevertheless, there are available on Amazon, a 20-sheet pack costs $10, a 30-sheet ZINK paper pack for $15 and a 50-sheet pack for $25, which works out to $0.50 per shot. Don't know you, but I consider it pretty affordable for the pleasure I will have.
The Prynt Case
The Prynt Case itself looks like a cheap plastic case. But the functionality makes it look beautiful to my eyes. So I can accept the outlook imperfection. The only real assembly required is snapping the phone adapter into the Prynt Case and putting a pack of ZINK paper into the back tray. As soon the phone is connected properly, I can start using Prynt.
The Prynt Case comes in black (with a white grip) or white (with a gray grip). Once we've picked a color, we'll need to pick the right smartphone adapter.
 Prynt App for Printing Videos - a Snapshot Away
The Prynt app is like the typical camera app. There's a shutter button, a button to switch between the back and front camera view, a flash toggle, a button to access the camera roll. What makes it different is the scan photos option.
There are two ways to take photos with Prynt: Pressing the touch screen shutter button or pressing the button on the Prynt Case. Immediately after taking a photo, the app will record a five-second video that will be linked with that specific photo.
The built-in photo editor lets us make small corrections on the photo before printing out. We can enhance the photo's colors, add a filter, add frames, stickers, text and even doodles. What makes me not satisfied is that the edit must be done immediately after shooting the picture. That means once saved in the memory, a photo can't be edited later. Pity!
When the image is ready for sending the data to the printer (a.k.a. rendering the file), we have to press the Prynt logo button, and within 50 seconds, we've got a 2"x3" sticker photo. As I was doing my homework with the Prynt Case research and other ZINK-based printer products, I've realized that the quality of the sticker photos is not brilliant. Or just not as good as the gloss/matte printed photos taken from the nearby photo studio. But I am okay with it, because this way, the sticker ZINK-photos look retro, reminding me of the old film photos (remember the old instant Fuji films? ). Anyway, if it crosses your mind that Zip Instant Photoprinter and Polaroid Snap prints are better, be sure that the quality is the same (because of the same ZINK-based paper used for printing our memories).
Photos taken with Prynt are saved inside of the app and the embedded videos are stored in a private account in the cloud.
| | |
| --- | --- |
| My Pros | My Cons |
| Living photo memories printed on paper | Limited adaptors iPhone 5C/5/5S/6/6S and Samsung Galaxy S4/S5. |
| Cheap consumables / ZINK paper/ | The duration of the video is quite short - only 5-seconds video embedded in each picture |
| Sticky ZINK paper | Edits must be done immediately after a photo is taken |
| Built-in photo editor to edit the photos | Always print video |
| Decent quality pictures | Lack of proper instructions |
| Easy downloadable App |   |
| Videos are stored in a private or public cloud account . |   |
| Endless usage possibilities for personal use, as a gift or interactive DIY  projects. |   |
Like every new release, there are things that should be improved in the later generations of this product. My research on the Prynt Case revealed some of the major problems that buyers are annoyed with. First, there are no options for the pictures to be deleted or saved to an existing phone gallery. Second, there is a white key in the bottom right of the printed image – a kind of watermark or something that shows that there's a link between the video and the pic.
Third, the Prynt App is not functioning very well with each phone, but this will be fixed soon for sure. Fourth, the lack of proper instructions could make you feel dump about how to get your phone recognize the camera body and the printing body so that they work together. Fifth, it's not possible to make just a print of a pic; there's always a short video embedded. Meaning you have to record a video in order to print the photo. But that's the whole point after all.  So despite those imperfections, the general idea is awesome and since I realized it's actually working, I will take advantage of it.
Simply Magical (or Why I Fell In Love With Prynt)
The "augmented reality" videos aren't limited only to our phones now. Sharing videos with friends and relatives could never be easier. With the Prynt App available for Android in the Apple App Store and Google Play store, we can send "live" handmade greeting cards for any occasion or interactive "Save the Date" announcements. The "living pictures" could play a fun part of any birthday party (especially for the kids).  It could be the used for any scavenger hunt parties or why not "hidden key" messages as a great surprise for your honey (or even engagement proposal idea, ahhhh!). Documenting a baby shower and everyday-changes-in-your-baby-life video picture diary is another option for every young mom. I love the idea of having a wedding guest book filled with prYnted video messages for the newlyweds. Prynt + Imagination = Endless possibilities ahead!
Your friends and relatives can download the app, and as long as the photo videos are set to public (which is optional), they can use the app's scanner and "unlock" the hidden videos within your photos.  Not that there are no other ways to share a video (through email, Facebook, Viber, etc.) but the whole idea of "living moments" is blowing my mind! Just imagine a "living" Scrapbook diary of your baby's milestones – first meet with mom and dad, first feeding, first "guuu", first smile, first steps, first birthday… Sounds more than great and satisfying for the price (there is even a Prynt discount now!)
Conclusion – a must if you're a gadget and printed photos lover like me.
More than an instant! Or simply magical! And the next Big Thing!
These are just some of the official statements about this awesome Prynt Case product. The real charm is its ability to "print" video. Transforming the instant paper into a moving image is like witnessing an impressive magic trick!
Enjoy!