Lost My Name Book | Incredible Personalized Gift For A Kid
Lost My Name Book is one of the best gifts for kids I've recently found – appealing, entertaining, magical, PERSONALIZED CHILDREN BOOK!
I so much love it! (and can't wait to receive my order!) I am happy to spread the awesome Lost My Name book for children with the following post.
What Gift for A Kid – The Eternal Question
Choosing an appropriate gift for a kid is an extremely hard decision.  There are so many things to take in mind – the age, the parents attitude, the meaning, the size, even the budget. And there is such an abundance of goods that choosing the suitable gift gets harder and harder task.
I usually walk the shops, searching, comparing, but the problem becomes even more complicated. Afer all, we want to make the kid happy. Unfortunately,  adults often believe that something SHOULD BE interesting for the kid, but in the end, this choice turns out to be not appealing to the kids at all. Moreover, we know that adults will politely smile on any gift even if they don't  like it; but the kids are painly honest (of course not consciously), and if they do not like the gift, they immediately get it said and demonstrate. It is even more true with the children 2-3+ years.
Don't get me wrong – I am not fussing too much about choosing gifts for kids. But I have some simple questions that I am trying to answer.
What kind of person are you when almost 3?
What's the meaning in life when you're almost 3?
What does "appealing" mean to you when almost 3?
(well, answering  is not so simple as it sounds…)
My daughter and my nephew are both the same age. Now almost 3. What  I know for sure is that children between 2 and 3 very quickly lose interest. Especially when talking about the variety of dolls, cars and plush toys.
Kids almost 3 love investigating life and objects by pulling, pushing , eating, breaking, punching, hitting, throwing (sometimes behaving as uncontrollable beasts).  Frankly, I am tired of low-quality toys and dolls, that get in parts so much easy. And that only an hour after falling into the hands of our cute kids.
Of course, this is repeating the next time, no matter if I pay twice the price as the previous doll. Now there are only a few types and brands (like Monchhichi, Corolle, Mattel, Disney, etc)  that I stick to (and these are not Barbie -in my opinion Barbie doll is for older kids). But I actually noticed that children's books became recently the better choice for  a gift (no matter what the occasion is, if there's an occasion at all….). However, you can always buy a toy. To me, this idea seems slightly worn out. With some exceptions.
Tip: When buying toys consider the labels on the packaging  – what is the recommended age, where is it produced (I personally avoid Chinese toys as they are really, really low-quality, and contain parts that can easily be inhaled and ingested by children). Do not skimp when it comes to child safety!
With the months passing, kids got a longer attention span, so they can focus on games, craft projects, short movies, books more easily. They understand their parents, follow sentences and stay still while mommy or daddy is telling a story or reading a book.
Yep, the 3-year-old is a complex person.
Some people think that book is not an appropriate gift because it is too small, can be scratched, torn apart and the child can't sit down and read it. I am not one of those people. I remember how much I loved my children books and whenever digging through my old stuff, I find one scratched but still in good condition book. There are so many amazing books with fairy tales, with colorful and beautiful illustrations. In my opinion, it is never too early to give the child a book as a gift. Never!
Make A Memorable Gift

If you have to pick up a gift for a significant occasion (what a birthday is), there's always a will to give something memorable. Of course, the child will hardly appreciate the hidden value of the gift, especially if it is not something that can be played with,  put in mouth or hit. Yes, it is not very attractive for the kid, but you might want to give something that will stay as a family relic.
Try this – a personalized children's book!
Like the magical customized storybook "Lost My Name" (or The Little Girl/Boy Who Lost Her/His Name)
Why Is Lost My Name Book So Awesome?
Because it is personalized to the child who'll have it. Depending on her/his name. Each letter of the name corresponds to a different character and when combined, they tell a beautiful and interesting story that will keep the child's attention.
Moreover, while customizing the Lost My Name book online, you can switch between different alphabet characters (2-3 options per letter). They also let you pick the book hero/heroine's hair color so that it resembles the child who will enjoy this treasure. I love that since it is letting the child be likened more to the child from the story!
Every time you can customize a different story which makes this book great gift for siblings! (did I mention the discount when buying more than one book? And the free shipping worldwide?)
Lost My Name book is far way different that the average children book. It is a tale of a child who wakes up one morning to find out that he/she has lost his/her name. The child then bravely heads off on a magical journey to find it and meets lots of different creatures on the way, depending on the letters of the lost name. Every creature has a unique story to tell, predicament to be solved. At the end of each short story, the creature (spider, elephant, elk, eagle, ant, troll and many more) is providing a letter helping the child to recover their name.
How Does Lost My Name Book Look Like?
"The Little Girl/Boy Who Lost Her Name" books are A4 size, printed on thick eco-friendly matte paper. Each book is made individually to an order, recommended for children aged 2-6. If you have a short name, extra pages are added to extend the length of the story.
How To Get Lost My Name Book?
It is so quick and easy to create and order your Lost My Name book. It is happening online, only via the publisher's web page. You get started by typing the child's name, pick a language (unfortunately, the languages except for English are limited to the original girl/boy character), pick the gender and then choose between different characters to play with your child within the book.  You can see  how I am customizing Lost My Name book here. (or look the video at the end of the post)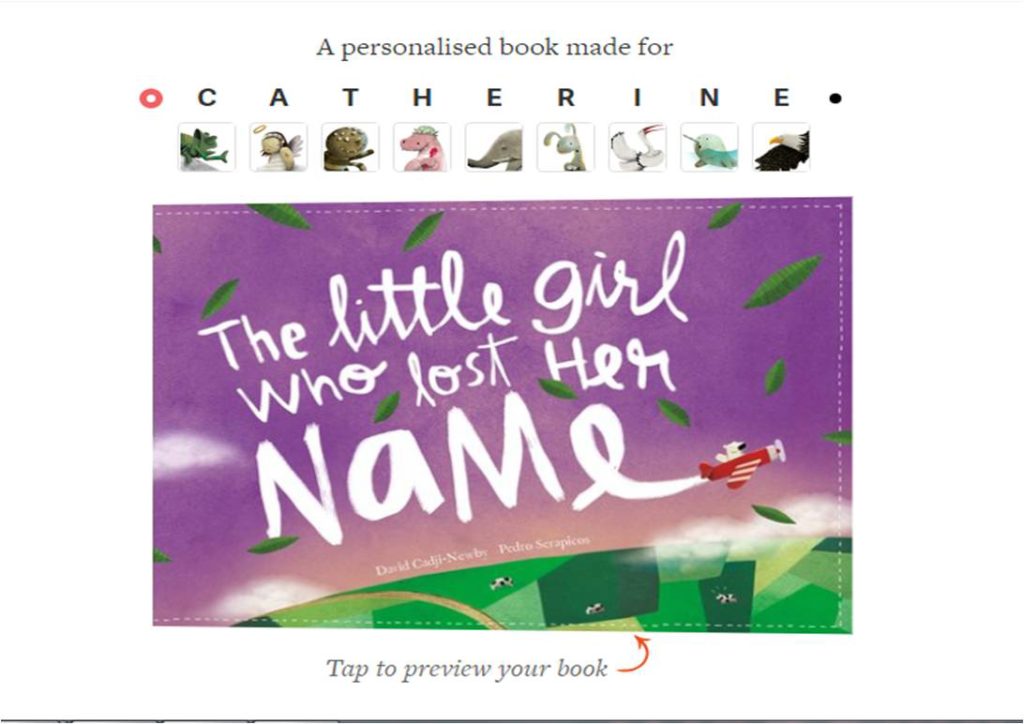 When you've created your book, you can start virtually editing from start to finish, switching between different engaging characters, each one with a different magic story.
This book would make an adorable gift to any small child (whether it's for Christmas, a birthday, name day or just a treat). Of course, there are other options to find on the market, like this personalized children book. But I find Lost My Name much more attractive!
"Lost My Name" offers free shipping worldwide and discount system with up to 25% off when you buy more than one book. For more information check out www.lostmy.name
All thoughts and opinions are my own, formed while placing my own order. I haven't received anything in return. 
p.s. Oh, one more thing – you can have Lost My Name book ABSOLUTELY FREE! Just click here to learn how.