I Spy Wedding Game – Great Idea for a Great Wedding
At most wedding receptions, the main entertainment for the guests is the DJ/band together with the dancing part. But how about those of the guests who are not really into dancing? They usually sit on the table, and if not talking to their neighbors, are just eating (not that this is a bad activity...not at all) and getting bored (or drunk). That's why is never redundant to propose some extra interesting activities for the guests. Easy party games are just the right thing to get people involved at the wedding reception. Being a real Taurus, I always prefer the combination between useful and entertaining activities. Photographing and gaming in just one activity called I Spy wedding game - that's what I consider a wonderful way to get extra photos from your wedding! Plus many happy faces. :-)
** This following post contains some affiliate links. Despite that, the written in here is honest and based on my own opinion or/and experience, research and wish to share my findings with you! 
I Spy Wedding Game - The Benefits
The wedding photos are something that must not be forgotten in the big day. I've always been a fan of the idea of hiring a professional photographer. That's what we (my husband and I) did for our Big Day. We spoke to our photographer and gave him some directions. But after all, there were some gaps in my expectations. I mean, the photos were simply gorgeous. I looked gorgeous. The artistic photos were stunning.
Every shot was better than the previous one. But a few years after the wedding, I realized that many moments I've wanted to be memorized were missing. Don't get me wrong! I recommend my photographer with both hands! He captured great moments and made adorable photo session at the sea port and the near park. I love our wedding diary! It keeps me smiling and makes me feel nostalgic every time I look through. With more than 500 shots, it became a true masterpiece.
The only thing that I am sorry about is that I've missed the part with collecting photos from our guests and I didn't make a list of pictures that I'd love to have forever after. (A lesson to learn is that if you want something from someone, just SAY it and the chances of getting it are more likely .....)
The "I Spy" wedding game is just a great idea to share with all of you who are on the way of organizing the Great Day.
I Spy wedding game – What's it all about?
This activity means that you'll involve your guests taking pictures by themselves - with their own cameras or with disposable ones, delivered to every wedding table. If you haven't heard about this I Spy Wedding game yet, I will give you a brief explanation.
So,
You provide a list of items for the guests to "spy" on at the wedding and "hunt" to capture. The list is used to guide your guests to take more meaningful photos, such as groom and bride holding hands, the groom looking at the bride from a distance, kids playing, older couple dancing, people clinking glasses, the oldest person at the wedding, etc.
You can do it on your own, depending on what might be curious for you to see and memorize from the Big Day. It's nice to include moments that are not traditional for the photographer to chase after. I've already made 2 templates (each for 8 tables), that might be useful for you. The first is in case you deliver disposable wedding cameras. The second is if you'll ask your guests to use their own devices. You can download both templates for free (if you find them useful, please subscribe), go through the list (with more than 40 original ideas for desired shots), use them directly or just for inspiration, print, and place on the tables.
That's not all.
Since I am a huge fan of photos (I prefer printed photos, which reminds me of another great wedding idea…but I'll share it later) and the I Spy wedding game, I give you an opportunity to make a personal request for any desired changes in the files by simply contacting me here (did I said IT'S FREE?).  Think about what you want to be captured in your wedding and make your own "I Love Spying" instructions. Some ideas in my lists are super adorable and you'll love keeping such dear and funny mementos in your wedding diary book.
As I said above, the I spy wedding game could be played with either camera of the guests or a disposable camera, delivered by you at the wedding reception. What I love most about this idea is that you'll see your wedding through the eyes of your wedding guests after all.
Plan A – Disposable Wedding Cameras
What you need is a disposable camera placed on every table plus some basic instructions –what they are hunting for and what to do at the end with the photo material. You can find the sample in my free for downloading file. The cameras can be collected at the end of the party, or left in a labeled basket so you can take the film for developing.
In theory, this should be very fun (as it's every idea for wedding activities that involves the guests): people laughing, having fun with the camera, playing paparazzi. Memorable and humorous moments that the photographer misses will be captured by guests themselves and you can make a gorgeous and funny scrapbook with all of these candid photos. The idea sounds just great. Mainly because:
the guests will be contributing to the final result, feeling engaged and a full part of one of the most important parts of the wedding.
there are always enthusiasts who love playing the paparazzi role so this would be their time to stand out of the crowd with some masterpieces.
you'll have the exact photos you wish for, just in the way you've described.
you'll have a huge collection of candid photos.
you'll have the opportunity to be the first person who will see the photos developed and choose the best.
But before you get too excited, here are a few reasons that might make you rethink:
The disposable camera costs at least $5-6 a piece (although there are gorgeous-looking pieces for up to $11), but each of the cameras contains around 27 exposures. This will cost money to develop. So you'll have to consider it when planning the wedding budget. (if you are not very lavish, some extra $100 - 120 might be needed when scheduling the wedding)
You are probably overestimating the photographing skills of your guests. Be prepared for red-eyed people and candid unwanted shots. (I clearly remember the moment my husband and I went back home - the day after the wedding party - and I opened my Facebook just to check as I usual do and accept the congratulations..well, I found myself tagged, blurry, with red eyes, looking like a vampire, too candid for my taste….. )
If it happens that kids get a hold of them, the cameras stand a chance of being disposed before any film is developed.
The pictures quality might not be very good. Disposable cameras produce sort of blurry pictures that you might not be able to use later (although developed).
Some people might take the camera home – by mistake or consider it's a wedding favor (or just want to have the camera for themselves). In any case, there is a big chance that some of the cameras will be missing (together with the photos). That's why the collecting procedure must be explained clearly to all of the guests (as it is written in the Footer of my free downloadable templates here). It's an option to make a DIY box or buy a fancy mailbox like this that might not be missed on leaving.
So as you can see, there's always a chance something to get wrong and happen not in the planned way.
Plan B (probably the better one)– Guests & Their Own Cameras
However, if you are afraid that the photographer might miss some precious moments and want to give the guests some of this huge responsibility, you can place a card on the table to request the guests to take pictures with their own cameras or phones (nowadays almost everyone owns a smartphone and many own a camera phone with much higher resolution than an average disposable camera) and create a photo sharing web space (in Shutterfly or Google Drive for example ) so that the guests can upload their own photos. The photos can be shared too so guests can see each other's photos and download them. It's good to place this kind of information at the bottom of each name card (or I Spy list) so that everyone knows where and how to upload the photos. Later, when sending the thank you cards, you can add their personal photos with the bride and groom while reminding politely to upload all their photos.
If you want to make everything strictly personalized with your wedding, that means you are a photo addict. Putting a photo share card at each place setting would sound interesting to you, right? Create a shutterfly or any other platform account (or just a simple email to be easier) and print the information (ID and password)  onto sort of  "business cards" templates.  Oh, and this is a simple (and hidden) way to control everything with uploading and sharing images that people left in the account/mailbox.
If you are on choosing the disposable cameras option, make sure you've downloaded the right I spy wedding game printable.
I Spy Wedding Game - A Lot More Than Fun
The I Spy wedding game instructions (with or without disposable camera) can be placed on the table in an artistic way, as a beautiful centerpiece. Below you can see some of the best decorations incorporating the I Spy game I've seen on the Internet (just for a little inspiration). Enjoy! :=)
sqs%caption id="attachment_9286" align="alignnone" width="300"]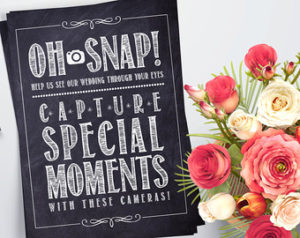 Image credit: chalkboard via Etsy.com[/caption]
sqs%caption id="attachment_9264" align="aligncenter" width="288"]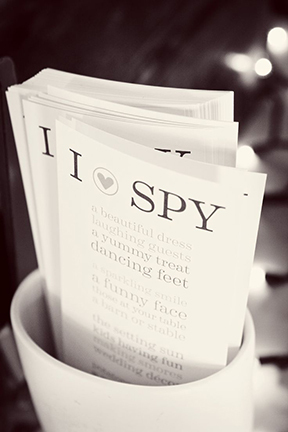 Image credit:https://cftheventdesignblog.com[/caption%sqe
You Might Be Interested In: