Homemade Mothers Day Gifts – Easy To Warm Her Heart
Let's face it, our moms spend years and years putting our interests before their own. That's why they deserve special attention – what is better than homemade Mothers Day gifts?
Whether she's a professional mom, a stay-at-home mom, fashionable mom, worries mom or no-worries mom, Mothering Sunday is the very day on which you can commemorate these amazing people in our lives. Mothers Day is just here, but not having an idea for a gift for your mommy yet?
Here are some great homemade Mothers Day gifts ideas that would be appreciated by any mom – 5 super easy last-minute thoughtful ideas for your dearest one!
** This following post contains some affiliate links. Despite that, the written in here is honest and based on my own opinion or/and experience, research and wish to share my findings with you!
Homemade Mothers Day Gifts Idea #1 – The Memory Letter
Sit down patiently and make a list of some of the really great times you've had that your mom played a large role in. Anything that recall some memories of your mom in your head. Situations when she helped you, some birthday parties, interesting stories, holidays, public appearance…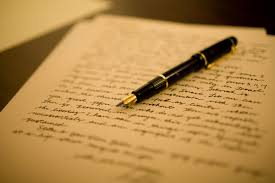 Then you can simply start writing and begin each vivid memory with: "Dear Mom, Remember when…" and fill as many pages as you can. At the end, you can simply write: "Mom, it's the little things you did that I'll always remember most."

You can use some printed design stationery pages bought from a store or  download some free stuff. Type your words or for better effect – handwrite them (of course if your handwriting is quite readable enough..). Then you can put in a stationary file as a book. Or simply fold the pages and seal them in a beautiful envelope that says: "To Mother with Love – Don't open until Mother's Day". If you add some pictures illustrating some of your stories, the effect will be even more amazing. Definitely, you'll get the biggest hug in the world.
Homemade Mothers Day Gifts Idea #2 – The Photo Memory Mother Story

Pick up a diary or journal book from your local retail or bookstore. If you are fond of DIY projects, you can also download some free digital stationary page templates, print a few pages and bind them with some ribbon or lace. And start your project. With all the millions of digital photos, stored on our computers, it's a real pleasure to have some printed, that actually are carefully selected and sorted. (I know selecting of good photos for printing is a real challenge!) It could be time-consuming, but it's worth it!
For the earlier ages, you'll probably need to scan some and then print again. But surely you get the main idea – a great selection of photos from her life as a mother or simply "The Greatest mother story through the ages". And don't fill all the pages. Leave some for future. (If you're wondering what the difference with the previous idea is, the thing is that the Memory Letter is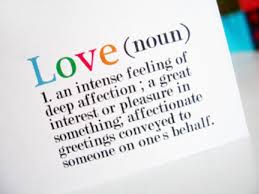 all about the stories and the details, and the pictures are just optional. The Photo Memory Journal is all about the images and visualizing the memories). If you lack time, you can stick to the simplest version and just find a vivid photo for each year of her life as mother – you just born, then on the 1st birthday, the next year and so on. (just remember that the focus should be put on your mom, not on you or your siblings).
Homemade Mothers Day Gifts Idea #3 Engraving Is Not All
The main idea here is to configure her name with some descriptive about her personality words. It all depends on her name. This could be engraved on a platter or any other surface. Even a beautifully designed stationary page will work, since you can format it in Word or PowerPoint, then print and put in a beautiful photo frame. Actually, this is an amazing way to present a mother's day photo frame.
As you can see the word "Mother" is crossed formed by the words
      Marvellous
     lOvely
   inTelligent
       Happy
     bEautiful
adoRable
For example, my mom's name is Diana. So my words are:
    sMart
  strOng
 glaMorous
    aDorable
 lovIng
    cAring
     iNtelligent
reliAble
There are thousands of options and words to choose from…When searching for words, I've landed on a very useful site, that you can take some inspiration –  click here.
Homemade Mothers Day Gifts Idea #4 365 Reasons I Love You
It's a really simple idea – just write down on small pieces of paper your 365 reasons (the number could be also your age or her age if you can't come up with so many).
You can start the counting from the Mother's Day and go on till the next year's mom's celebration. For example, "Day 1 – Mother's day – I love you because …..", then "Day 2 – 11th May 2015 – I love you because …." And so on and so on. Specifying the dates let you write some special messages to your mom ahead. So even if you are not living close to each other, she will be feeling your love and warmth every single day, bringing smiles on her face not only on Mother's Day with this homemade gift idea.
Homemade Mothers Day Gifts Idea #5  'Mom of the Year' Newspaper Cover or Certificate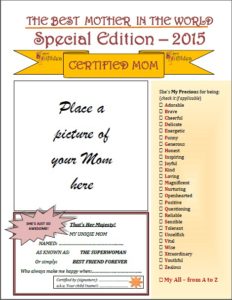 Create your very own article featuring your mom as the superstar. She'll appear in the headlines of the day she scooped the coveted 'Mom of the Year' award. You can use you a free copy of Super Mom Certificate by simply clicking on this link, or create your very own.
By personalizing these quality Mothers Day ideas, you have the power to personally touch your Mom's heart this year. Imagine her appreciation when she knows you truly thought specifically of her! Go on; put Mom's name in the spotlight and give her a gift she can cherish for a whole year!
And, last but not least, sit down with her and have a well-deserved cup of coffee or tea and tell her you love her. This is something to accompany your homemade Mothers day gifts and perhaps one of the best Mothers Day presents of all!
(p.s. Love you mom! And congratulations to all the Mothers in the world! )