24 Engagement Party Gift Ideas- How About Being Creative? [part1]
Are you wondering whether and what you should give the happy couple as a present? What makes the best engagement party gift ideas?
You just heard the good news – your fellows are getting married! You're so happy for them! And need some engagement party gift ideas! Of course, for the wedding, there will be probably a gift registry or wish list. But how about the engagement – are you really required to give a gift at all?
** This following post contains some affiliate links. Despite that, the written in here is honest and based on my own opinion or/and experience, research and wish to share my findings with you! 
Engagement party has a long-standing tradition, becoming even more commonplace in the last few years. It is unsurprising therefore that there is uncertainty as to what actually is a suitable engagement gift. "Do you bring a gift to an engagement party?" This is one of the most frequent questions I've heard when talking about gift occasions.
First of all, unless you are part of the family or one of the closest friends' circle, you are not required to give an engagement gift at all. Anyway, you are always welcome to give a little something if you are invited to an engagement party to celebrate the special occasion.
Next, you really do not need to worry about getting something big and expensive: this is not the wedding yet.
Then probably you'll be attending the bridal shower. There you will be required to give another gift, so keeping it small this time is perfectly fine for this event (and saves your budget).
Last, there is no need of presenting the couple wth appliances and stuff like that (for the future household) . This is what the wedding gift registry wishlist is for.
According to the traditional engagement party etiquette , there are no strict gift requirements or expectations for the engagement party. Therefore, you do not necessarily need to bring a gift to the celebration.
I finished with the topic "Do we need presents for an engagement party"
There are tons of great engagement party gift ideas that don't cost that much but still express perfectly your feelings about the happy couple's engagement. And your congratulations. My advice is simple – make it personal as much as you can. Don't get me wrong –  wine, a box of luxurious chocolates in a beautiful wrapping paper, flowers are always appropriate and good engagement party gift ideas. BUT if you are more than distant acquaintances, they might be too impersonal.
Instead of opting for gifts that lack exactly that personal touch, choose personalized gifts. These presents will get your message of love and the couple will cherish your gift forever and ever, for sure.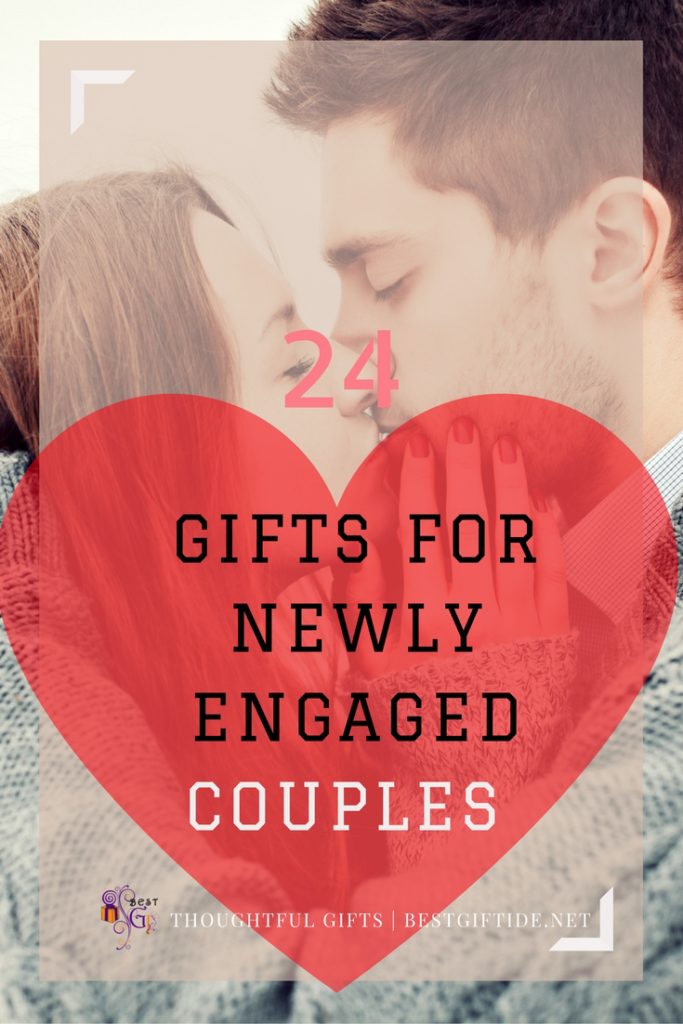 So What Could Be Given to The Newly Engaged Couple?
Finding unique engagement party gift ideas for the couple can be fun. It's nice to give them something different, something funny, rather than the traditional gifts of flowers, wine or something for the household (remember that the wedding reception is still to come). The engagement gift can be something smart that the couple can use while planning their wedding, or something unique that they will remember for sure.
Therefore, the keyword for the best engagement gift for your close friends or relatives is personalization…
 Personalized Engagement Party Gift Ideas

First and foremost, the gift doesn't need to be extravagant – keeping it simple and personal is the way to go and even the smallest token of appreciation will be enough to congratulate and convey your good wishes to the soon-to-be-weds. And show how happy you are for them!
Here are some great, thoughtful and unique engagement party gift ideas to inspire you (but feel free to come up with your own creative ideas. And PLEASE DON'T FORGET TO SHARE THEM WITH US):
1) Tell a story
How about writing down a few interesting stories or anecdotes about the couple in a beautiful notepad or even on some luxurious sheets of paper? Maybe the story of how they first met or how they fell in love? You can go further and invite all of their friends to write down anything about the soon-to-be-married.
2) Or make them tell the story
 There are really cute memory books to collect and "store" all the little memories of the pre-wedding times. These types of books usually start by asking a few things about the first dating, how was the first ever meeting, etc. then goes into the proposal and what are the general ideas about the wedding of the dreams.
This exact kind has even sections for wedding memories, the honeymoon, and 1st anniversary. There are also thicker cardstock pages throughout that have pockets for pictures and small mementos.

Of course with a little bit of fantasy and inspiration, you may try to transform an ordinary (but still luxury) notebook into one-of-a-kind handmade engagement story-book. Learn how later on.
3) Scrapbook with photographs
Select several pictures of the happy couple in unusual or funny situations and put them in a photo album, with small tags and funny sayings. I personally always go for the funny element and combine with some other good-looking photos that the couple will be proud of for the years to come. Just don't make them feel embarrassed (as if Facebook isn't sometimes enough for that..)
4) Photo gifts
Again, print some cute couple pictures on small gifts of your choice – like mugs, fridge magnets or whatever else you can think of, or just put them into frames.
5) Gift baskets
Planning and organizing a wedding is extremely stressful and exhausting (hell, yeah!), so why not give the couple a relaxing gift hamper to help them unwind during the pre-wedding period. You can find fantastic gift baskets for couples, with suitable bath products, massage oils, and a relaxing CD. Or make one of your own ( I am a fan of the DIY gifts so if you know them, do it; moreover, this CD could be used for their wedding reception party music, right?)
6) Engagement Web-site
It's a unique gift – a couple's online diary of the time between 'Yes' and 'I Do', of the wedding preparations as a whole; a place to share all the pictures from the periods BEFORE-AFTER. And who knows what will happen – maybe you will help the virtual world discover a new talented blogger who will start their own Internet marketing business…
With a personal engagement website you could help the happy couple to:
Announce the engagement and post news about the wedding preparations.
Tell the story of the proposal.
Share photos! Whatever you want – photo albums or single photos of the engagement, photos of the ring, of the couple's life before knowing each other, and before the proposal….
Communicate easier wth the invited on the wedding
Remember all the special moments with stories, photos, videos, well wishes from others, and more, all in one place. (website will always be there on the Internet for you.
Grow the website over time to include more details about the wedding and all important future events (such as the honeymoon, baby on board, and many many other happy moments).
You can hire a professional website designer or use The Knot free service.
7) Engagement Pro Photo Session
A wonderful gift is a professional photo session voucher. Engagement photos are usually taken before the invitations are even mailed out so that they can be included in the design. A local photographer would work best, but before hiring, take a look at their portfolio just to be certain they will do a great job for the engaged couple.
8) Dancing Classes
A dancing classes gift card is one of the unique engagement party gift ideas for a newly engaged couple – especially if they already claim to have two left feet. They will be in the spotlight for their first dance at the wedding and get them prepared can really help them to feel more comfortable and show some more. A dancing lesson gift certificate should be for a dance studio or dance instructor who is local, but before purchasing, ask whether they provide first dance choreography. Well, even if the couple is not fond of doing anything extraordinary on the reception, they can always use the certificate to spend time together dancing simple tango, salsa, samba, rumba or whatever they choose.
9) A Professional Astrology Horoscope of the Couple
A gift certificate to a professional astrologist can be a truly unique engagement gift for a couple who is preparing for the married life. Though, not every couple may appreciate such a gift.  So make sure that your friends would be open to this idea before getting the certificate. Getting them a face-to-face or virtual meeting with a local astrologist can be a fun gift. It will hopefully give them some fun events to look forward to.
10) Video Congratulation on Youtube
Congratulate those who are going to tie the knot with an engagement congratulation video on youtube or other sites. Let those couples know you wish them well in their new lives together. It would be really a nice a surprise for them – you could choose the music background, the text, the pictures or any other details. It doesn't cost much ( $10-15) , but there's a huge impact (depending on how it's actually made).
11) Time Together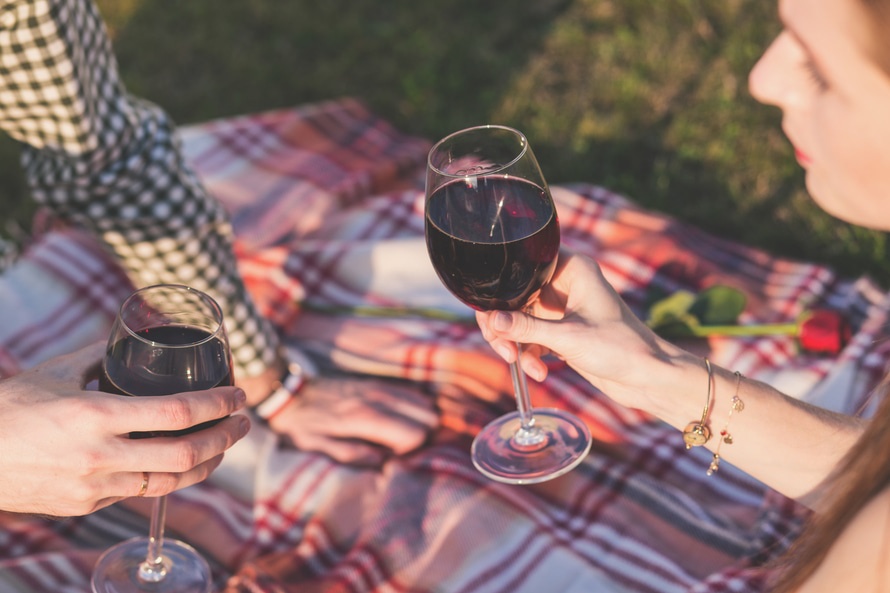 The couple would never refuse to spend some more time alone. So it is a good option to offer them something that will certainly heat the romance between them. They would undoubtedly opt to hang around together. So providing them a massage gift certificate for couples, a ticket for two for a concert or a show, a double voucher on a fancy dinner house are some of the best charming engagement party gift ideas. And totally appreciated.
12) Countdown Calendar
If you already know the day of the wedding find as many pictures of the happy couple as you can. Assign a personalized photo calendar, starting from the month of the engagement and ending in the month of the wedding. Put some personal tags, like occasions reminders and provide space for other notifications. It will both help the couple to organize better and make them feel even happier when seeing their own smiles from the pictures.

No doubt, the best engagement party gift ideas are those that allow the couple experience love and romance together while enjoying that special moment of their lives. Although there is no specific rule for the gift giving on an engagement party, still, it's best to express and show support for the couple's future as husband and wife.
If these ideas were too complicated or personal (or even extravagant) for your taste, get the next 12 fantastic engagement party gift ideas . They will help and inspire you (100 % guarantee).