DIY Wedding Gift Booklet – Lovely Super Easy Project
DIY Wedding Gift is not something fancy, and maybe not that extraordinary, but as I always say – the idea behind the gift itself is far more important. DIY wedding gift is a super easy but really impressive way to express your joy and happiness of the couple's special day.
The idea for the present diy wedding gift booklet, which I am going to share with you, was inspired of a Valentine's day project "52 reasons that I love you". I loved the idea of using a pile of playing cards as a small booklet. So all the rest came up in just 5 minutes. The rest was so easy – it took me only a couple of hours. It will take you even less because here you'll have a ready for use template.
Okay, you probably still don't understand what I am talking about?
Why making a DIY gift for a wedding?
I have always been confused giving money on a wedding as a gift. But since this is oftenly the exact stated wish of the couple (I can't deny it is a really useful gift, hell yeah!), I must respect that wish and obey. But I make it on my own way. So whether I present the money in an original way, or make some additional diy gifts, I always put my signiture and make the package or the envelope (with money inside) looking exceptional and highly personalized.
This is how it happened 2 weeks ago when my hubby and I were invited on a wedding. It was decided – the gift would be money. OKay. But I decided – again – to give them in a special way. Moreover, the wedding is a  special day; and I am always feeling thankful to those who invited me to share this special moment. And my way to thank is not just putting the money in an envelope (as if I am buying the reception's costs per person, blah!). My way to thank was…..this lovely diy wedding gift project. It is based on love story, presented in a booklet made of….playing cards! Simple playing cards.
Choosing the playing cards is quite symbolic to me – the marriage itself is a mystery and gamble (as many people are afraid of it), but if you find the perfect partner with just a little bit of luck and wisdom, you could play your hand in the most successful, winning and beautiful way and resist the difficulties. Do you think so?
How to make this DI wedding gift booklet made of playing cards?
As I said – it was super easy to make. Needed only a couple of materials and stationary tools (7 as a whole!). Took me about 3 hours (without the template preparation of the love story which I am giving you now as a free download). Costed almost nothing! (no more than…let's say 10 bucks, wow!). Looked gorgeous and charming!
So you need for this diy wedding gift project: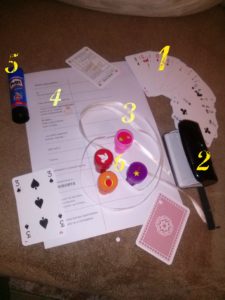 1 –a deck of playing cards
2 – perforator
3 – ribbon
4 – template – love story devided into 54 sheets
5 – glue
6 – decoration (scrapbook stamps)
7 – scissors
The instructions are very simple to follow:
FIRST: Make holes punched in the cards (using the perforator). Just be careful all the holes to be in the right same places and on the right side. I used the linear which is build in the perforator's bottom. I wasn't that precised. Being honest, some of the holes went wrong, but that's the ribbon's role..
.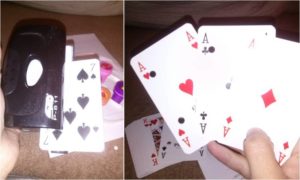 SECOND: Prepare the deck of cards so that go in the preffered sequence. As I know the love story very well, I ordered the cards by purpose. That's why first read the story carefully – you can find it whole in the downloadable template. For example – I named that the positive characters in the story will be "illustrated" with hearts, diamond; clubs will be for luck; spades will be for the negative characters or situations. And then went deeper and correspond each card to each piece of the story as is devided in the template. But this is something really optional and personal. I felt it like this, and I made it the same way. Took me half an hour more to match everything.
So after that (still the second part of the whole process): thread the cards on the ribbon cord. Then tie a loose beautiful ribbon to hold them together. I am actually not very good at ribbons, but I used the scissors to tie (these instructions will help as well). Now you have a charming  "booklet".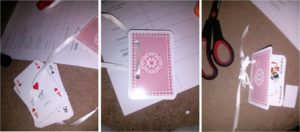 THIRD:Print the template with the love story. Cut all the 54 small pieces minding the sequence as given (that is how the story goes so don't mix them – you will lose time to puzzle everything together again). Apply with the glue each piece of the story (meaning each small sheet ) on each card in the same exact sequence. (I helped myself by putting the numbers on the back of the sheets with a pencil, carefully not to leave any prints). Then decorate as you wish! I used cute scrapbook stamps [rings, high-heels, bird, magic wand, flower, etc…] or any other scrapbooking decoration.
Even without any decoration, it will be pretty enough.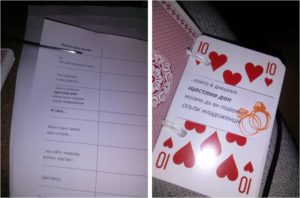 FOURTH: Take a small cartoon box matched to the size of the deck of playing cards. Put your "love story booklet" in. It's optional adding a small greeting card. I did, cause I wanted to simple say "Congratulations! Love, Annie & Niki".  But actually this booklet could be used as a greeting card itself (there's a space for your names and their names). So, as I said, the main gift was money, so I put the banknotes behind the greeting card as shown on the picture. And closed the box.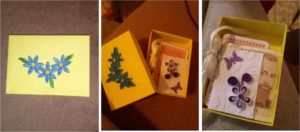 It was so pretty that couldn't wait for the wedding to come and have the opportunity to give it to the hppy newlyweds. We were ready for the wedding – no stress, no fuss, no anxiety! Only positive energy and good feelings intangled into my gift. Lovely!
Do you also like this diy wedding gift idea? Download NOW the template and use it as many times as you can. (More love stories coming soon…)
p.s. You can use this template for any other anniversary special occasions (removing some of the unnecesary pieces of the text at the end) or even St.Valentine's day, or just because you love somebody!)
p.p.s. Probably you won't recognize from the pictures the banknote amount and the text on the template for this diy wedding gift idea. It's because the gift was prepared in my maternity language and currency banknotes, and later on I add the English version of the story.