For those who are moving to a new house or for those helping friends move, here are 5 of the best housewarming gifts to give.
Moving to a new home is a great challenge and fascinating experience at the same time. Lots of joy, lots of fuss and many tasks to be done. But when finished – everyone deserves a party. And everyone wants to show their new home to the dearest friends and relatives. To make your friends or relatives happy and give them a little touch of you when transferring their new house into  a warm welcoming home, here are the following 5 suggestions:
** This following post contains some affiliate links. Despite that, the written in here is honest and based on my own opinion or/and experience, research and wish to share my findings with you!
1.Towel Cakes
Towel cakes are popular and inexpensive gifts for every new home party. As you probably understood from the name – they are made of towels (which are always necessary for the household) and "garnished" with some kitchen small appliances. (as an idea it's something familiar with the baby diaper cakes).
You can find a wide variety of ideas and options for those of you who are creative. Towel cakes are not hard to do and don't take a long time to be made. Actually, they are one of the simplest DIY home projects. But to be successful, you need to be careful in folding the towels during the assembly process.
What makes this idea one of the best housewarming gifts is that this present itself is the impressive way of presenting some of the most useful essentials for the kitchen as a gift set. Such essentials as measuring cups, spoons, spoons, garlic press, kitchen scissors, salad tong, spatulas, pan, silicone tip tongs, peelers, squeezer and many many more. It's just your creativity that put the final touch. Of course, you can always find some tutorial and specific ideas when googling.  
2. Mosaic House Number Kit
Creating a one- up to four-numbered mosaic address sign with this kit is funny and when done – useful. Kids also love it, so if your friends or relatives have children, this is a very good idea for a housewarming gift. Depending on the vendor, most of the kits contain mosaic stones, wooden board, template, numbers templates, glue, grout, sponge, and mixing stick. It usually measures approximately 8 x 8 inches (20cm x 20cm).
A lot of fun and time family spend together in assembling the number of their new home.
I love this gift idea!  Can you guess what is it? Yes, another useful new home gift set, consisting of home utilities to be of help for the household.
Remember the fever when moving to a new home?  All the little tasks that need to be done? Hanging the pictures or flower pots, measuring the space for the new couch, assembling the cables which are always too short to reach the plugs…
Remember all the tools you need on hand to complete these tasks? Measuring tape, screwdrivers, 
nails, 
pliers, 
plumbing
wrench, 
mains tester, 
coupler, 
cables, 
mock
knife, 
picture
hangers, 
line
level, 
mini
hammer, small t
owel…Everything with the purpose to transfer this new place into a home sweet home.  It would be so nice to have everything in just one place, ready to be in use when necessary.
Saving your dear friends the hassle with searching the proper tool, and help them make their house a home, you can stop by any local hardware store or just browse the Internet and pick up the real housewarming essentials.
It doesn't 
matter what you choose to pick as "ingredients" – screwdrivers, measuring tape, cords, etc. – it's up to you, your wish, and your budgets as well. It doesn't matter what shape you will choose – a wooden box, metal box or a cute Mason Jar for those of you who love DIY-ing.
What really matters is the idea of this housewarming gift – that you understand the situation and the needs of your dear friends, so you help them with something that will be definite of use, therefore imply your main wish – making the new house a home of their dreams.  For sure – one of the best housewarming gifts 🙂
Here is an exemplary list of what you can include in your home toolbox (but it's just exemplary – you can create your own…)
Tip:
 don't go for cheap trash. Think of essentials you would use; essentials that will be actually useful many many years, not that will break after the first use only because they are few bucks less.
Batteries AA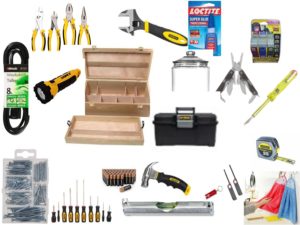 4. Budget Binder
Okay, nobody wants to talk about money and budgeting when preparing for a new home party, but unfortunately, everyone is concern about the family budget, especially after moving to the new house. So you can definitely help  your dear friends or relatives to bind the budget with this quite useful Budget Binder.
I was thrilled to find it free for download and immediately save it on my computer to have a deeper look inside. I can say it's amazing and very detailed, so will be useful for everyone, no matter if some of the expenses outlined will be not so necessary.
What you need is a selection of these items:
links are used below.
You can find the Budget Binder printable here thanks to Mique
5. Tree To Be Kit
Let your friends or relatives grow a real plant tree from a scratch. I mean – seeds. You know the saying that if two people plant a tree together, they will be together forever? Well, I don't know if this is actually true (forever is quite long time to know) but gifting a tree (or future tree) is an elegant way to wish the family happy long-lasting life and a hard-rooted home.
Of course, there are varieties of trees to choose among.
One of them is The Red Maple Tree Kit, which is probably the easiest and least expensive, but high-quality seed as well. You don't have to be a horticultural expert so planting won't be hard for your friends. It's good to know that The Red Maple is one of the most common trees in the eastern United States, grows up to a height of 50 feet and make beautiful fall foliage. The Red Maple is also known as the state tree of Rhode Island.
Another option is to opt for a mini Giant Sequoia Tree Kit. The great thing about this product is that it comes with everything you need (except for water), so there's no guess-work. The kit contains:
– a plastic tube (greenhouse)
– seeds (between 5 – 10)
– soil
– white pebbles (to cover the seeds)
– instructions on how to grow the seeds (easy to follow).
This is a fun gift for everyone and to me – definitely one of the best housewarming gifts ever. Great for those who've never done such a gardening work before.
Advice: when arranging the gift, you can put some extra gardening tools such as:
Only left to wish them to enjoy!
If you liked these 5 ideas, you can stay tuned for the next piece of best housewarming gifts that will be appreciated for sure. And don't forget to offer to your friends some extra help for the Big Moving to the new house!  (before the party 🙂 )