60th Birthday Gift Ideas – What A Year It Was 1955
Looking for a great 60th birthday gift idea? I know how you feel -
you want something amazing, unforgettable, precious, highly impressive and yet, really useful! Well, sometimes, this combination is quite imaginary. But I know WHAT is  ALWAYS well received,evaluated and TOUCHING - a gift of memories! Of all kinds! No matter if it comes to personal memories and keepsakes or those related to the time in which people lived. 
** This following post contains some affiliate links. Despite that, the written in here is honest and based on my own opinion or/and experience, research and wish to share my findings with you! 
In the year you were born - 1955!
One of the nicest things you can do on someone's milestone birthday is to think of ways to recall their memories and let them realize through how many things they have been through. I know, there are people who are worried about turning 60. But I myself declare  that everyone will love each of the 60th birthday gift ideas listed below. Each one!
(I am sure that you'll be curuous and interested as well. Will you? )
The Idea Behind - What A Year It Was - 1955- do-it-yourself or buy-it-yourself?
Basically, What A Year It Was is one of the coolest 60th birthday gift ideas ever. As a matter of fact, it is so true for almost every mislestone birthday you can imagine. And it's the coolest because let you be creative.
I made this for my dad's 60th birthday. It was just a part of the gift, so I simply attach them ogether. He loved it and discuss with Mom all the facts he read about like for hours.
All you need is some computer skills on Word and PowerPoint  + interesting facts of the year of birth (1955 in this case) + home printer. Then just make a combination of some curious facts about the world in the year 1955. Summarised by myself in my downloadable template, they look like this (checked on authority sites like Wikipedia and Billboard magazine) .
So In 1955: (random facts)
McDonalds fast food chain started by Ray Croc
Guiness Book of Records published first edition
Pop singers include Elvis Presley, Bill Haley, and Chuck Berry
African American Rosa Parks famously refuses to give up her bus seat to a white person
"Fish Fingers" invented and marketed by Birds Eye (fish didn't have fingers up until then)
The hovercraft is invented by Christopher Cockerall
Lady and The Tramp screened in cinemas
Kemit the Frog was created
Velcro is invented in Switzerland
Average cost of a new house $10,950
Average wage $4,137 / year
Gas cost 23 cents a gallon
Bread costs $ 0.18
A new car cost $1,900 on average
Most of these facts pertain the USA, so you'll have to dig around and find your own facts relevant to your own country if you live outside the USA. Anyway, you can find more facts:
To make a really neat gift, turn these facts into a poster-gift like this:
and simply print it.
If you're giving a framed print as a gift, then the thickness of the paper is less important so long as the colors are vibrant. Personally, I prefer "matted" frames, which are are ones that have a white border around the poster. I think they look great, and they also make your gift feel bigger and more substantial. If you ever visit an high-end photography gallery you'll notice that this is the type of frame that they use, simply because they look fantastic.
Is That All That You Suggest?
 Oh no, it was just the beginning for the crafty people here.
If you prefer to click-and-buy something stunning & memorable, then for sure see these 5 ways to bring smile on the the "Big Six-Zero"
This record album (sized yearbook) contains world events, hit songs, significant photographs, movies, advertisements and TV shows, memorable sports achievements and the fashions from 1955.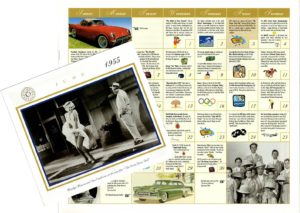 The 1955 Time Passages Yearbook is formatted as a calendar with important events noted on each day of the year.
This paperback 24  page greeting card gift  is filled with special memories from special 1955. There is also a trivia game. Each Almanac features over 40 original advertisements, a recipe, cost of goods, average income's, top movies, popular music, sports news and champions, Academy Award Winners, top baby names, famous people born in 1955, significant news headlines, and many more interesting facts and trivia. It is in the size of a greeting card, that comes with a envelope. Which means it's perfect for mailing if your friend isn't near around. Or use it only as a birthday greeting card (
the price
is very satisfying for the quality). Surely will bring a great "flood" of memories "remember when..."
This is a great greeting card for a 60th Birthday! I've been looking around the stores in my area for something that says something more than just "60th birthday" on a cup or balloons. Not only the receiver will read and watch it, but every guest will be interested as well. So, what is it? This colorful card (again for no disappointments - it's a card with a DVD attached!) is filled with stories and pictures about the people, places and events that made the year 1955 so special. The DVD shows the year's most entertaining video highlights (apprx 40 minutes long) including 'People in the News,' 'Politics & World Events,' 'Fashion & Entertainment,' and 'Sports.' Of course, you can add your own personal message in a space provided. An envelope is also included for mailing.
No matter which option you like more, I must share one strong advantage of these products with you - they are proudly made in USA!
It contains an entertaining package with a bag of buttered popcorn (it's for a movie night, no doubt), a DVD of 1955 events and a 24-page 1955 trivia booklet, everything wrapped in cellophane with bow. Ready to give as a 60th birthday gift. I personally would add one or more DVD movie classics from those ancient times just for the fun. You can always check which movies were released in 1955 in the IMDB site. I know that Lady and the Tramp is a cartoon, but having in mind that it is one of the most significant facts from 1955 plus the story is quite romantic and sweet, that could be nice choice for a birthday lady. Otherwise,Henry Fonda starring as Mister Roberts. Just a suggestion.
Additional gift idea: if you have a big bugdet on a one-of-a-kind 60th birthday gift, then a DIY thoughtful gift idea is to assemble a Movie Night Package with 60 different blockbusters DVDs through the years from 1955 to 2015 (one movie per one year). I know it sounds like a looooooot of money, but each old DVD movie could be found for no more than a few bucks.
 The fifties was a decade full of people, places, and events that changed the course of human history forever. Remember them all? Well, let's see...The set contains of 2 decks in one: a trivia deck with different questions for 1955, and a regulation playing card deck complete with 2 jokers. The 52 different illustrated questions in each deck range from easy to challenging, and each question is specific to the year. Topics include entertainment, culture, world events, celebrities, sports. The answers are given on separate answer key card included with each deck. It's nice not only a sa gift, but as an entertainment for the party itself.
I can't think of nothing more nostalgic and curious than these 60th birthday gift ideas. As a matter of fact, at least one of these options is always accompanying my gift. Which one did you like most?
Some suggestions from the gift store